Accu-Chek Blood Glucose Meter Kit Performa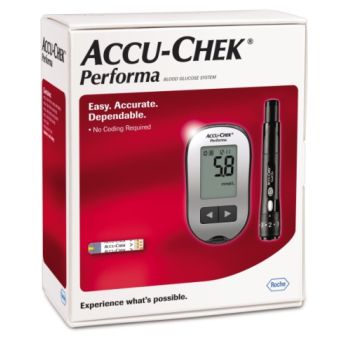 Accu-Chek Blood Glucose Meter Kit Performa
RRP $75.00
$69.00
---
DESCRIPTION
Kit comes complete with meter, batteries and lancet device. 
Features:
Test Strips. This Accu-Chek Performa meter is compatible with existing Accu-Chek Performa test strips.
Proven accuracy.* Independent studies in Australia & overseas confirm the accuracy of Accu-Chek Performa blood glucose monitoring system. The Accu-Chek Performa system meets the accuracy requirements of the new ISO 15197:2013 standard
No Setup required. The meter is ready to use right out of the box, with no prompt to set up the time and date before the first test
Mealtime monitoring. The Accu Chek Performa meter supports an increasing awareness of the value of postprandial (post-meal) monitoring. It offers a new post-meal alert to remind you to check 2 hours after a meal. New pre-and post-meal markers support averages for pre-and post-meal results: available for 7, 14, 30 and 90 days.
No-Coding. Added convenience of not having to insert or change the coding chip Mum and Child
Virtually pain-free lancing. Kit comes with 1-click Accu-Chek FastClix lancing device
Attractive design. A modern and dynamic shape with good look and feel
Fast 5 seconds test time
Large and easy to handle test strips
Large and easy to read screen
Tiny sample size <0.6 L with under-dosing detection. Up to 5 seconds to re-dose the same strip
Fast fill strip. Blood sample is quickly absorbed by the test strip
500 test result memory. For improved blood glucose tracking
Infrared downloading capability. Results can be downloaded to your computer using our data management products
| | |
| --- | --- |
| Catalogue Code | 2562 |
| Brand | Accu-Chek |
| Manufacturer | Roche |
| Script Required? | No |
General Information
Australia Only shipping.