Accu-Chek Blood Glucose Meter Mobile System - Bundle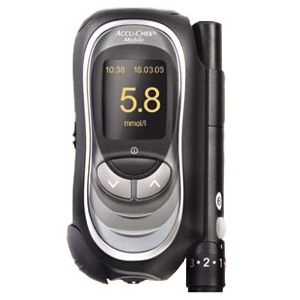 Accu-Chek Blood Glucose Meter Mobile System - Bundle
RRP $169.00
$99.00
---
DESCRIPTION
This Accu-Chek Mobile ''bundle'' contains everything that you need to get started with your mobile testing
Welcome to strip-free testing of your blood glucose with the new Accu-Chek Mobile. Allows you to test whenever and wherever you want.
Only the Accu-Chek Mobile system combines an innovative test cassette with 50 continuous tests and an attached Fastclix lancing device with six lancets per drum.
50 tests on a continuous tape
No single test strips to handle
Nothing to dispose of after each test
No exposed lancets to handle
Used lancets hygienically stored for safe disposal
Test virtually wherever, whenever - no hassles, no worries!

This Accu-Chek Mobile Starter Kit Bundle contains;

Accu-Chek Mobile System device x 1
Accu-Chek Mobile test cassettes x 100 tests 
Accu-Chek Mobile fastclix lancets x 102 lancets
*Conditions Apply - Up to $60.00 Cash Back Voucher, Complete voucher provided, Attach receipt, Send to Accu Chek Mobiles nominated address -
| | |
| --- | --- |
| Catalogue Code | 4993 |
| Brand | accu-chek |
| Script Required? | No |
General Information
Australia Only shipping.