Anthogenol Capsules 100 X 3 ( free freight included)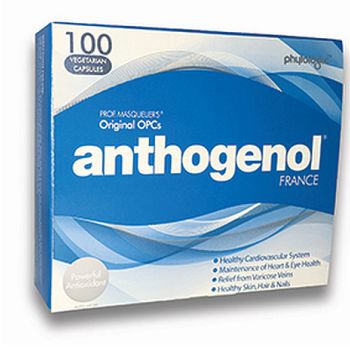 Anthogenol Capsules 100 X 3 ( free freight included)
RRP $440.00
$339.95
---
DESCRIPTION
Masquelier''s Anthogenol is the authentic French phyto-nutrient supplement that may assist with optimal and healthy ageing. Anthogenol''s remarkable multi-active complex delivers:

* A powerful anti-oxidant that helps to protect cells from the damage of free radicals, and a superior free radical scavenging capacity than other known anti-oxidants (ie vitamin e)

* Collagen (connective tissue) biosynthesis support, thus protecting against breakdown and visibly reducing the appearance of fine lines and wrinkles.

* Important protection throughout the body by strenghtening capillary walls, and supporting the integrity of the body''s vascular and circulatory systems.

French professor Jack Masquelier pioneered the first viable method of isolating OPC''s from plants in a therapeutic, purified, stable and readily available form. Anthogenol''s "chemical fingerprint", signifies the proprietary isolation technique and the legal right to boast the subsequent clinically validated health benefits, based on over 50 years of research and therapeutic and nutritional use.
Age differently. Agewell.
| | |
| --- | --- |
| Catalogue Code | 5228 |
| Brand | Anthogenol |
| Manufacturer | Phytologic |
| Script Required? | No |
Ingredients
Each capsule contains:
vitis vinifera extract equivalent to dry seed 12g, 40mg ascorbic acid ( vit C ) , 20mg silicon dioxide.
Related Products