Benzac Ac Gel 2.5% 50g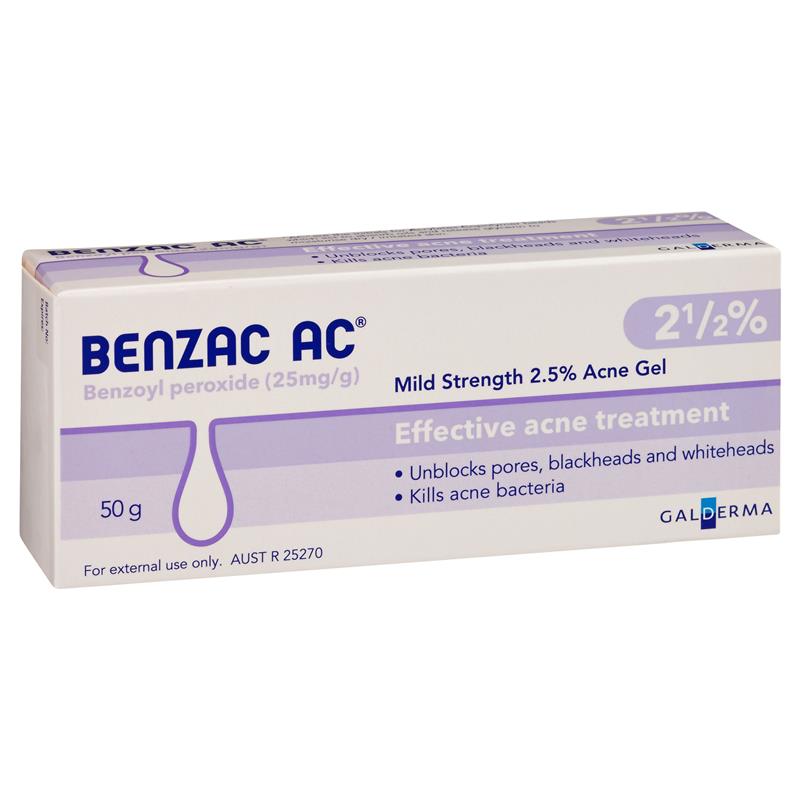 Benzac Ac Gel 2.5% 50g
RRP $19.95
$16.88
---
DESCRIPTION
Benzac AC is proven to reduce bacteria by 94% and within 48 hours of commencing treatment.
Benzac AC is a water based benzoyl peroxide treatment for mild to moderate acne.
Benzac AC wash is a treatment for use in mild to moderate acne. The wash provides cleansing and treatment combined in one.
Benzac AC gel is an aid in the treatment of acne and is available in 3 strengths for topical application.

Select a regimen to suit your skin.
We recommend starting treatment with either 2.5% or 5%. Be sure to read the information leaflet inside the pack before you begin.
| | |
| --- | --- |
| Catalogue Code | 2590 |
| Brand | Benzac |
| Manufacturer | Galderma |
| Script Required? | No |
General Information
Do not use Benzac Gel if you have an allergy to benzoyl peroxide or any of the other ingredients in the Gel.
Wash and dry your hands before applying the Gel.
Squeeze a small quantity of Gel onto your finger tips and rub a thin film onto the affected areas.
Related Products