Blackmores Bio C 500mg Chewable Tablets 200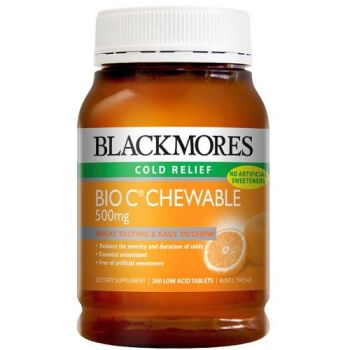 Blackmores Bio C 500mg Chewable Tablets 200
RRP $39.99
$24.99
---
DESCRIPTION
Vitamin C can reduce the severity and duration of colds. May reduce the severity of the symptoms of allergic reactions, and assist wound healing. Helps in the metabolism of folic acid and B group vitamins and is also a powerful antioxidant.
Buffered with mineral ascorbates making it gentle on the stomach.
Contains citrus bioflavonoids extract to to boost its vitamin C action in the body.
Contains no artificial sweeteners.
Reduces the severity and duration of colds.
As a potent antioxidant it helps to protect against free radical damage.
Promotes wound healing via its role in collagen production.
Helps to maintain capillary health.
| | |
| --- | --- |
| Catalogue Code | 117 |
| Brand | Blackmores |
| Manufacturer | Blackmores |
| Script Required? | No |
Directions
Adults - Chew one tablet twice a day with meals or as professionally prescribed
Children - For children 4 - 12 years Chew 1 daily with meals, or as professionally prescribed
Ingredients
Ascorbic acid 200 mg
Sodium ascorbate 200 mg
Calcium ascorbate 175 mg
(Total vitamin C 500 mg)
Citrus bioflavonoids extract 10 mg

Warnings
If symptoms persist, see your healthcare professional.
Consult your healthcare professional before use if you have had renal calculi (kidney stones). Ascorbic acid may increase the risk of recurrence of calcium oxalate calculi.
Always read the label. Use only as directed