Blackmores Tranquil Night Tablets x 60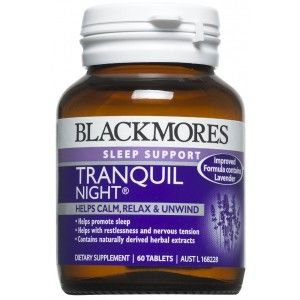 Blackmores Tranquil Night Tablets x 60
RRP $25.00
$20.00
---
DESCRIPTION
Alleviates disturbed sleep patterns
Gentle, effective formula
Non-habit forming, natural sedative.
This formula contains the sedative herbs valerian, hops and passion flower which have traditionally been used to relieve mild insomnia and disturbed sleep patterns. As a group they help to relax muscular tension, and have a sedative effect on the central nervous system.
Oats has traditionally been used as a nervous system tonic, as well as a mild sedative.
Vitamins B6 and B3 may enhance the conversion of the amino acid tryptophan to serotonin, which is involved in the body''s regulation of sleep.
| | |
| --- | --- |
| Catalogue Code | 2664 |
| Brand | Tranquil Night |
| Manufacturer | Blackmores |
| Script Required? | No |
Directions
Adults - Take 1 to 2 tablets ½ an hour before bed, or as professionally prescribed.
Children (under 12 years) - Only as professionally prescribed.

Ingredients
Lavandula angustifolia (Lavender) extract equiv. to dry flower 600 mg
Humulus lupulus (Hops) extract equiv. to dry fruit 250 mg
Passiflora incarnata (Passion flower) extract equiv. to dry herb 250 mg
Avena sativa (Oats) extract equiv. to dry herb 250 mg