CoaguChek ® INRange Instrument (for patient use and Device ONLY)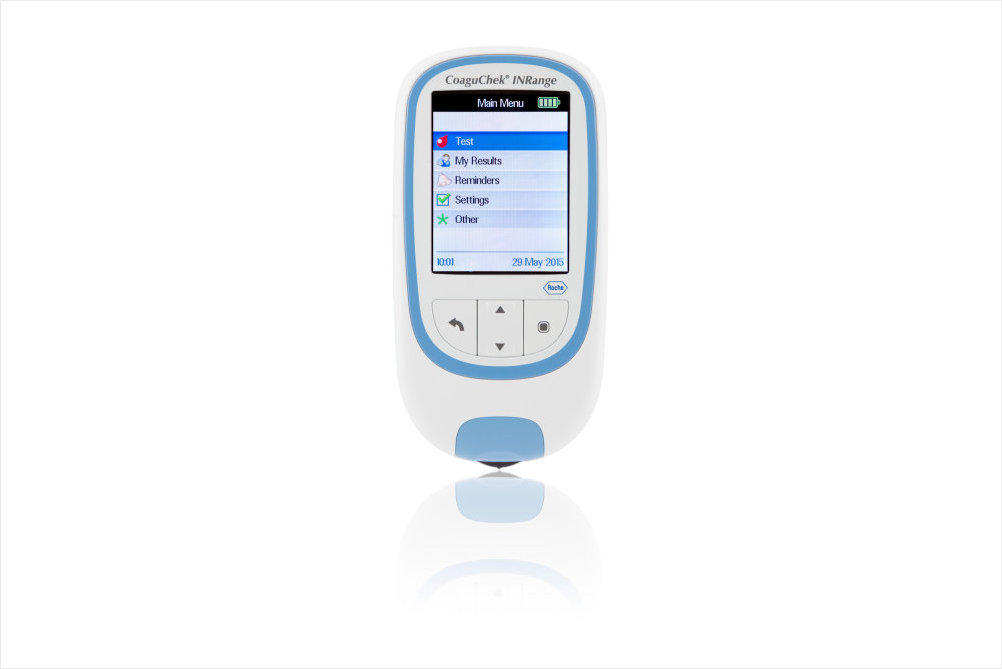 CoaguChek ® INRange Instrument (for patient use and Device ONLY)
RRP $799.95
$609.95
---
DESCRIPTION
The NEW CoaguChek INRange is the new connected self-testing meter that gives you the freedom to test your PT/INR at home, on the go, or wherever you happen to be. Its Bluetooth technology allows you to wirelessly transmit PT/INR results to your healthcare provider, so you can be confident you are in your target therapeutic range and in control.
Choose peace of mind , By engaging in your own therapy through self-monitoring, you can spend more time in your target therapeutic range (TTR)1 and less time in the clinic. The CoaguChek INRange system makes it easy.

CoaguChek INRange kit consists of the following components:
* CoaguChek INRange meter
* CoaguChek XS Softclix lancing device - for single patient use only * CoaguChek Softclix lancets (bag of 10)
* Carrying case
* User''s Manual
* Quick Reference Guide
* USB cable
* 4 x AAA batteries
| | |
| --- | --- |
| Catalogue Code | 6417 |
| Brand | CoaguChek |
| Script Required? | No |
General Information
Key features:

Choose confidence
Choose confidence in the CoaguChek INRange which offers more information than just your PT/INR result. With trending reports, comments and color coded graphs, you can quickly see your results, and how it relates to recent activity.

Results trend reporting
The CoaguChek INRange meter will let you know if your most recent result is higher or lower than your last result to help you understand if you are trending.

Bluetooth or USB connectivity
Connect your meter using Bluetooth or USB to quickly and easily send results to your healthcare professional. For more information about compatible software for data transfer with the CoaguChek INRange meter please contact your local Roche Diagnostics customer support.

Color display
The color display makes important information such as color coded results noticeable so that they are easy to read and understand.

Target range aware
The meter enables you to track your time in range by graphically displaying how many times you have been within, above or below your target therapeutic range.

Commenting
Enter up to 6 comments with each result to help you remember what is happening in your life that may have affected the result.

Reminders and on screen help
You can set reminders for when to test or take medication directly on your meter.

On-screen help provides text guidance through the test procedure.