Dermatix Scar Reduction Gel 15g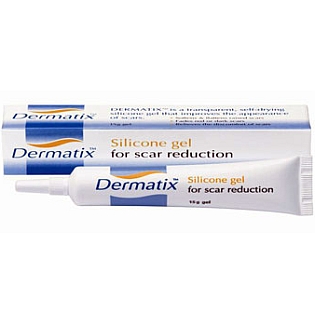 Dermatix Scar Reduction Gel 15g
RRP $60.00
$45.00
---
DESCRIPTION
Dermatix is the advanced topical silicone gel, used and recommended by plastic surgeons, dermatologists and leading specialists worldwide, to effectively reduce scarring. It is clinically tested and proven to soften, flatten and smooth scars, and relieve the itching and discomfort associated with them.
Fast drying, convenient and easy to use
Transparent and discreet
Indicated for use on sensitive skin, children and patients at high risk of scarring
Maintains the skin''s moisture balance
Provides elastic protection to the skin
Ideal for most parts of the skin, including the face and joints
No maceration
Semi-permeable
| | |
| --- | --- |
| Catalogue Code | 3092 |
| Brand | Dermatix |
| Script Required? | No |
Directions
Dermatix gel is very simple to apply and should be used at least twice a day:
* Clean the area to be treated with mild soap and water, pat dry.
* Gently massage a small amount of Dermatix gel over the affected skin.
* Allow to dry for 4–5 minutes before covering with clothing or make-up.
If Dermatix gel has not dried within 4–5 minutes, you may have used too much: remove the excess and allow the drying process to continue.
The recommended minimum duration of treatment is two months. Continue to use Dermatix for as long as benefits are experienced.