Dermaveen Oatmeal Shampoo 250mL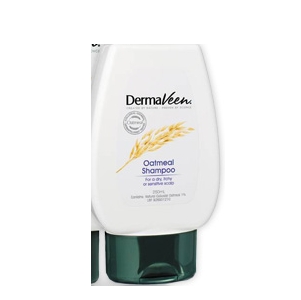 Dermaveen Oatmeal Shampoo 250mL
RRP $14.95
$11.88
---
DESCRIPTION
Dry, itchy or sensitive skin welcomes the natural soothing, hydration and protection of natural colloidal oatmeal.
DermaVeen Oatmeal Shampoo can be used everyday for dry, itchy or sensitive scalp.
Dermaveen Oatmeal Shampoo:
* is pH balanced
* won t clog pores
* is ideal for children and adults
* is soap free so it won t dry skin during over body wash off
* contains no lanolin, parabens, dyes and fragrances
* can be used on coloured or permed hair
* If you have a dry skin condition it s also important to use a soap-free shampoo and conditioner so the run-off during wash-off does not strip skin of essential oils.
* Contains Natural Colloidal Oatmeal 1% w/w
www.dermatech.com.au
| | |
| --- | --- |
| Catalogue Code | 838 |
| Brand | Dermaveen |
| Manufacturer | Dermatech |
| Script Required? | No |
Directions
Ingredients
It contains 1% colloidal oatmeal and PCA 1% in a bland, aqueous base to provide a rich lather.


Related Products