Dimetapp 12 Hours Nasal Spray 20mL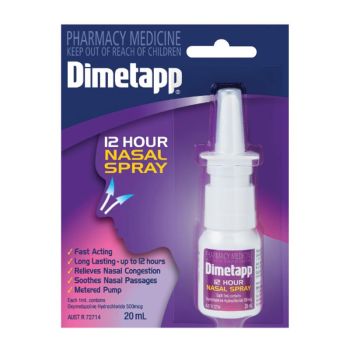 Dimetapp 12 Hours Nasal Spray 20mL
RRP $13.99
$10.88
---
DESCRIPTION
Dimetapp 12 Hour Nasal Spray provides fast acting relief for up to 12 hours. It is non-drowsy and relieves:
nasal congestion due to colds
sinusitis
hayfever
other respiratory allergies
| | |
| --- | --- |
| Catalogue Code | 934 |
| Brand | Dimetapp |
| Manufacturer | Wyeth |
| Script Required? | No |
Directions
Spray 1-3 times into each nostril Morning and evening (every 10 - 12 hours) Twice in 24 hours Prime metered pump before first use by depressing it several times. With head upright, insert nozzle into nostril and depress pump 1 to 3 times—all the way down—with a firm, even stroke and sniff deeply. Repeat into other nostril.
When to stop: After 3 days
Caution: Do not use this product for more than 3 days. If congestion persists, consult your doctor or pharmacist. The use of this dispenser by more than one person may spread infection. Do not exceed the recommended dosage.
Store Below 25ºC
For additional information on precautions and warnings please refer to the carton.
Ingredients
Active Ingredients
Each 1mL contains:
Oxymetazoline Hydrochloride 500mcg

Related Products