EQUAZEN (Formerly known as Eye Q) Capsules x 540 ( 3 x 180 )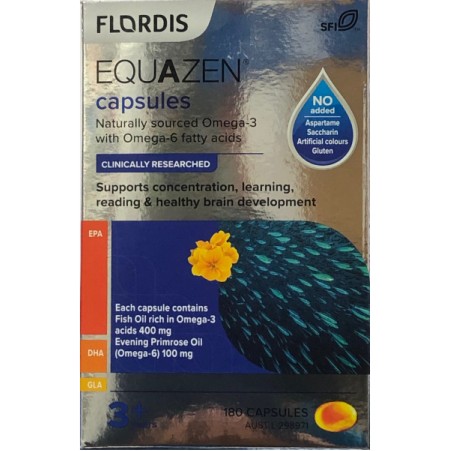 EQUAZEN (Formerly known as Eye Q) Capsules x 540 ( 3 x 180 )
RRP $159.00
$140.00
---
DESCRIPTION
Eye q is a combination of the specific omega 3 and omega 6 fatty acids required for optimal eye and brain function, delivered in the form of high grade natural oils.
We don''t use the word ''natural'' lightly: in processing and selecting our oils, we ensure that only pure, natural form fatty acids are used. The main reason for this specification is that many who take eye q are youngsters, and so we believe this makes it even more important that there are no synthetic or artificial elements within the formulation. When we made the formulation, we looked closely at the research showing that fatty acids do play a vital role in the development of vision, co-ordination, learning ability, memory and concentration.
To reflect this work, we combined the highest possible natural source of omega-3 EPA, in the form of a particular marine lipid, with omega-3 GLA, provided by first-press virgin evening primrose oil.
There is good evidence that this formulation delivers the optimum ratio of fatty acids for eye and brain function. Testimonials from parents, children, in fact any age, have indicated real benefits in mood and concentration. eye q has become the supplement of choice in the UK and leading European markets for anyone with concerns about fatty acid deficiency in learning and behaviour.
| | |
| --- | --- |
| Catalogue Code | 5735 |
| Brand | EQUAZEN |
| Manufacturer | FLORDIS |
| Script Required? | No |
Ingredients
Each capsule contains:
Natural Fish oil 400mg;
Equivalent to -
Omega-3 marine triglycerides 120mg;
Eicosapentaenoic Acid (EPA) 92mg;
Docosahexaenoic Acid (DHA) 28mg;

Evening Primrose Oil 100mg;
Equivalent to -
Gamma Linolenic Acid (GLA) 10mg;
d-alpha-tocopheryl acetate 1.6mg.