Ethical Nutrients Inner Health Plus Capsules x 30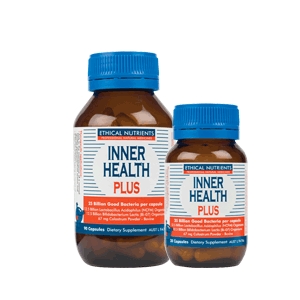 Ethical Nutrients Inner Health Plus Capsules x 30
RRP $19.95
---
DESCRIPTION
Inner Health Plus is one of the strongest medical strength probiotics available in Australia.
Aids in the maintenance of a normal healthy gastrointestinal system and digestive function.

If you have been taking a course of antibiotics a probiotic such as Inner Health Plus may assist in maintaining the balance of good bacteria.

Inner Health Plus may be useful for the symptoms of bloating, gas or flatulence.

NCFM acidophilus can survive the passage through the human gastrointestinal tract.

Aids in maintaining a normal healthy immune system.

Helps improve general wellbeing.

Helps maintain normal healthy urogenital flora

visit www.innerhealth.com.au
| | |
| --- | --- |
| Catalogue Code | 5031 |
| Brand | Ethical nutrients |
| Manufacturer | Ethical nutrients |
| Script Required? | No |
Directions
Adults and children over five years: Take 1 capsule daily or as directed by a healthcare professional

Ingredients
Lactobacillus Acidophilus (NCFM) organisms 12.5 Billion
Bifidobacterium Lactis organisms 12.5 Billion
Colostrum Powder - Bovine 67 mg

General Information
Temperature (c) Time Guaranteed to be stable
40 c 48 hrs
30 c 14 days
25 c 4 months
4 c 2 years

It is recommended that you store at 2°C to 8°C when not being transported. (Refrigerate. Do not freeze.)

Inner Health Plus has the exclusive use of many of the therapeutic strains of probiotics that have been shown to be effective in clinical studies