Fefol Multi-Preg With Omega 3 & Iodine Capsules x 60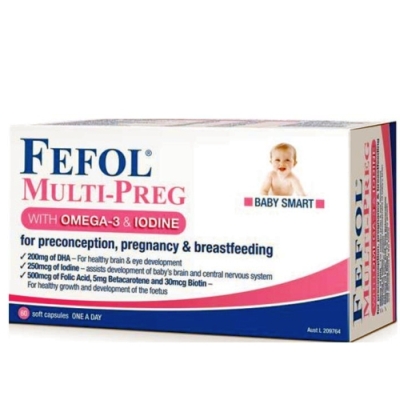 Fefol Multi-Preg With Omega 3 & Iodine Capsules x 60
RRP $31.95
$25.00
---
DESCRIPTION
Fefol Multi Preg with omega 3 and Iodine has 14 vitamins & minerals including:

251.9mg Omega 3 DHA and EPA (Natural Tuna Oil)
500mcg Folic Acid
250mcg Iodine
12mg Iron (as Ferous Fumarate)
251.9mg Omega 3 (Natural Tuna Oil) - highest level of Omega 3 in pregnancy multivitamins
Delivering 200mg of DHA for brain and eye development
DHA has been scientifically demonstrated to play a critical role in the growth and functional development of the brain during the third trimester and the early postnatal period when maximal growth occurs.
It also pays an important role in retinal development, where DHA constitutes 60% of total polyunsaturated fatty acids.
Pregnant women should take 100~300mg of DHA daily to look after the needs of the fetus.
500mcg Folic Acid
To reduce the likelihood of neural tube defects such as Spina Bifida
Poor folate status either 1 month before conception or during the first trimester of pregnancy is an independent risk factor for neural tube defects in the newborn.
According to clinical studies, pregnancy care or early pregnancy supplementation should equal 400~600 mcg/day.
250mcg Iodine
Essential for brain development in babies and for maintaining a healthy metabolism during pregnancy
Scientific evidence shows that mild iodine deficiency during pregnancy can have subtle effects on brain development, lowering intellectual functioning and inducing psychomotor deficits in early childhood.
Iodine deficiency during pregnancy has been associated with increased incidence of miscarriage, stillbirth, and birth defects.
The Australian Thyroid Foundation suggests that pregnant women should be taking iodine supplementation in doses between 100mcg and 200mcg per day.
12mg Iron (as Ferrous Fumerate)
Marked increases in the maternal blood supply increase the demand for iron and often additional supplementation is needed to avoid deficiencies.
RDA for pregnant and breastfeeding women is between 9mg and 27mg of iron.
PLUS Calcium (100mg), Magnesium (15mg), Zinc (10mg), Biotin B7 (30mcg), Vitamin B1 (1.5mg), B2 (1.5mg), B3 (7.5mg), B6 (1.5mg) & B12 (12mcg), Vitamin C (Ascorbic Acid 60mg), Vitamin D3(12.5mcg), Vitamin E (6.98mg) and silicon (17mg).
| | |
| --- | --- |
| Catalogue Code | 6093 |
| Brand | FeFol |
| Script Required? | No |