Henry Blooms Back, Neck & Shoulders + Capsules x 60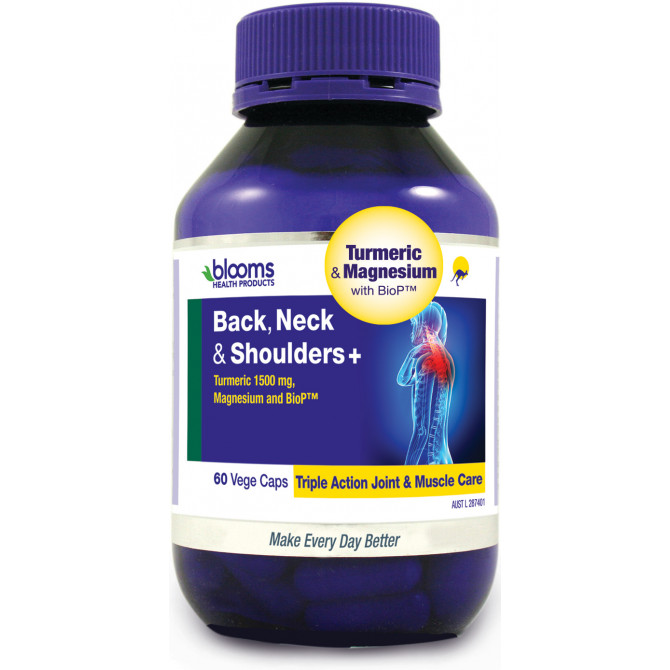 Henry Blooms Back, Neck & Shoulders + Capsules x 60
RRP $42.75
$22.99
---
DESCRIPTION
Blooms Back, Neck & Shoulders + combines two potent ingredients for back, neck, shoulders and more into a vegetarian capsule with BioP™ (Black pepper) for enhanced absorption. Turmeric helps the management of joint pain and inflammation and has also been used traditionally to support digestive, gall bladder and liver function. The Turmeric in this product contains 65% active Curcuminoids (48.75 mg). Magnesium is an essential mineral involved in over 300 enzyme systems. It supports bone formation, and is an important mineral required for normal nerve and muscle function.
Vegetarian friendly. Always read the label. Follow the directions for use. If symptoms persist, change, or worsen talk to your health professional.
| | |
| --- | --- |
| Brand | Henry Blooms |
| Manufacturer | Phytologic |
| Script Required? | No |
Directions
Adults: Take 1 capsule twice daily with food. If symptoms persist consult your healthcare practitioner.
Do not use if tamper evident cap or inner seals are broken or missing.
Ingredients
Each vege capsule contains:
Curcuma longa
(Turmeric) rhizome extract 75 mg
equivalent to
dry rhizome 1.5 g (1500 mg)
equivalent to
curcuminoids 48.75 mg (65%)
Magnesium (elemental) 210 mg
(from Magnesium citrate 453.07 mg
Magnesium amino acid
chelate 200 mg
and Magnesium oxide 165.81 mg)
Piper nigrum
(Black pepper – BioP™)
standardised extract
equivalent dry fruit 131.5 mg
equivalent to piperine 5 mg
No added gluten, wheat, yeast, animal products, milk derivatives, lactose, artificial colours, flavours or preservatives.