Henry Blooms MSM Powder 300g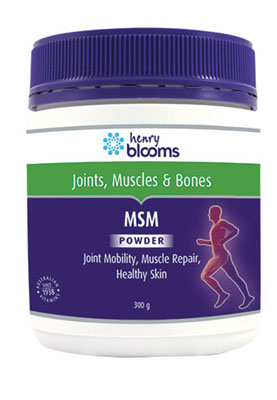 Henry Blooms MSM Powder 300g
RRP $27.45
$16.99
---
DESCRIPTION
Henry Blooms MSM Powder is 100% pure crystalline MSM (methylsulfonylmethane). MSM is a naturally-occurring, easily absorbed source of organic sulphur. Sulphur is an element found in all body cells but most concentrated in the muscles, skin and bones. It is required for the proper assimilation of the sulphur containing amino acids methionine and cysteine; and is required in the formation of many proteins and enzymes. Unfortunately MSM in foods is mostly lost during food processing, storage and cooking. Levels of sulphur in the body decline with age.
Henry Blooms MSM Powder contributes to:
Healthy joint cartilage function, and reduction of inflammation.
Health of connective tissue, muscles, ligaments and tendons.
Reduction in muscle cramping and tension.
Healthy appearance of skin, hair and nails.
Normal immune function.
Directions
Add 3 g once or twice daily, as directed by your health professional, to food or beverages.
Sugar free, fat free. Contains no gluten, wheat, dairy, lactose or egg. No artificial colours, flavours or preservatives. Suitable for vegans/vegetarians.
Ingredients
MSM (methylsulfonylmethane).
No added gluten, wheat, yeast, animal products, lactose, milk derivatives, sugar, salt, artificial colours, flavours or preservatives.