Henry Blooms Olive Leaf Throat Spray 30mL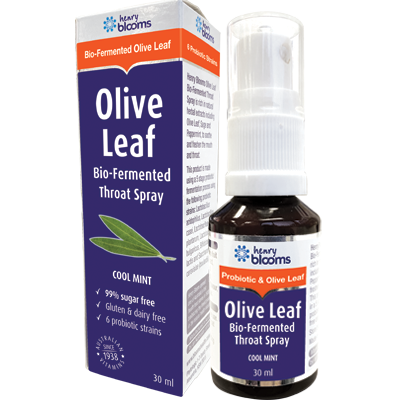 Henry Blooms Olive Leaf Throat Spray 30mL
RRP $19.95
$11.99
---
DESCRIPTION
Henry Blooms Olive Leaf Bio-Fermented Throat Spray is rich in natural herbal extracts including Olive Leaf, Sage and Peppermint to soothe and freshen the mouth and throat. Available in Cool Mint flavour, the spray is 99% sugar free and is made using a unique 5 stage probiotic/ fermentation process using the following natural probiotic strains: Lactobacillus acidophilus, Bifidobacterium lactis, Lactobacillus casei, Saccharomyces cerevisiae (boulardii), Lactobacillus plantarum, Lactobacillus bulgaricus.
| | |
| --- | --- |
| Brand | Henry Blooms |
| Manufacturer | Phytologic |
| Script Required? | No |
Directions
Adults: Shake well before use. Spray into mouth and throat by pumping 2-4 times as required.
If pregnant or breastfeeding consult your healthcare professional. Store below 25C.
Ingredients
Olive Leaf Extract, Papaya fruit enzymes, Sage leaf extract, Peppermint oil, Marigold flower, Clove oil, Glycerol, Menthol, natural lemon flavour, bio-fermented liquid base.
Naturally free from gluten, lactose, 99% sugar free and vegan friendly.