Henry Blooms VitaQIK™ Liposomal Vitamin B12 50mL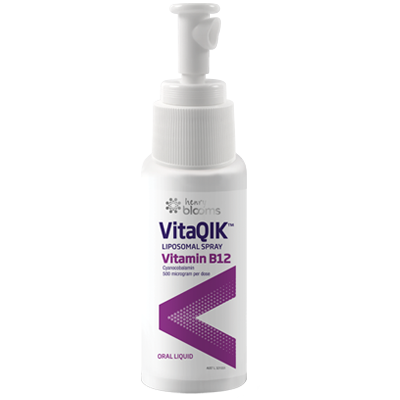 Henry Blooms VitaQIK™ Liposomal Vitamin B12 50mL
RRP $19.95
$11.99
---
DESCRIPTION
VitaQIK™ Liposomal Vitamin B12 supports the nervous system, energy production and immune function in a convenient sublingual (under the tongue) spray. Free from sugar, gluten, dairy and vegan friendly, this handy spray can be kept in your bag or on your desk for your quick, easy and delicious boost of B12.
| | |
| --- | --- |
| Brand | Henry Blooms |
| Manufacturer | Phytologic |
| Script Required? | No |
Directions
Adults: Shake well before use. Spray 1 mL (2 sprays) under the tongue once daily, or as directed by your health professional. Hold liquid under the tongue for 5 seconds before swallowing.
Ingredients
Each 1 mL dose contains:
Cyanocobalamin 500 micrograms
(Vitamin B12)
Free from sugar, lactose, gluten, wheat, milk derivatives, animal products and artificial colours and flavours.
Vegan and vegetarian friendly.
Contains ethanol, potassium sorbate, sodium benzoate and soya bean products.