Hope's Relief Goats Milk Soap 125gm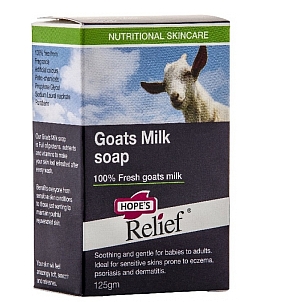 Hope's Relief Goats Milk Soap 125gm
RRP $7.99
$4.88
---
DESCRIPTION
Goats Milk Soap.
Goats Milk is a pure and natural product perfect for dry sensitive skins and skins prone to eczema, psoriasis and dermatitis.
Hope''s Relief Goats Milk Soap is ideal for babies to mature adults and lets you wash and clean helping to avoid irritations or flare ups.
We use 100% pure Goats Milk and your skin and your babies skin will feel unbelievably soft and smooth.
Our Hope''s Relief Goats Milk Soap is packed full of VITAMINS A, B6, B12, E, NUTRIENTS, PROTEINS, VITAMIN E, GLYCERIN and naturally occurring TRIGLYCERIDES.
PLUS boosted with Organic Shea and Cocoa Butter.
Vitamin A, B group and E - Moisturise and Soothe dry skin.
The proteins in Goats Milk make it an ideal choice for teens or those with ACNE prone skin. Plus the proteins allow for quick HYDRATION of dry skin.
The triglycerides and alpha-hydroxy acids naturally exfoliate shedding the olds dead skin cells and moisturise the skin underneath. Giving you skin a smoother appearance and radiant glow.
Goats Milk has 3 times more beta-casein. Caseins are easily absorbed into the skin and allow for quick hydration of dry skin. Goats Milk contains caprylic acid which brings the pH closer to human skin.
Vitamin E - has been shown to benefit the skin in numerous studies. Soothing and cooling on dry skin.
Glycerin - makes skin look, feel and function better by attracting moisture and by helping skin cells mature properly and is used as an amollient (skin softener) in soaps. Soaps with glycerin help skin to stay soft and supple. Glycerin moisturizes the skin and is a natural product of the soapmaking process. However makers of commercial soaps often extract the glycerin so that it then can be used in the more profitable manufacturing of creams and lotions.
Soap is made with vitamin E and glycerin is much better for skin because of its ability to help retain moisture and its powerful antioxidant effects.

| | |
| --- | --- |
| Catalogue Code | 5934 |
| Brand | Hopes |
| Script Required? | No |
Related Products