John Plunkett's Superfade Cream 60mL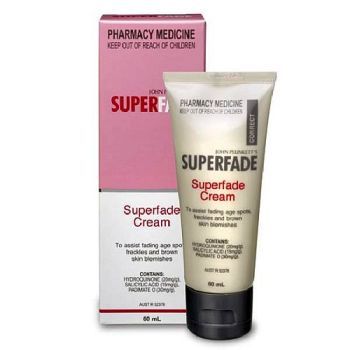 John Plunkett's Superfade Cream 60mL
RRP $37.99
$36.99
---
DESCRIPTION
Superfade Original is considered the world''s most effective fading agent to help remove smooth brown marks on your skin. Caused by excessive pigmentation, these blemishes can occur on the back of the hands, arms, neck, face or body.
Superfade produces dramatic fading results through the synergistic action of hydroquinone and salicylic acid.

This combination is only found in Superfade. Superfade gently exfoliates away the over-pigmented skin and enncourages new skin growth. This cream works gradually and results should begin to appear after 4 weeks.
In addition, Superfade Cream contains vitamins to help restore the health of your skin and a sunscreen to protect it from further damage.
| | |
| --- | --- |
| Catalogue Code | 1214 |
| Brand | Superfade |
| Manufacturer | John Plunkett |
| Suitable Age | Adult |
| Script Required? | No |