John Plunkett's Superfade Face Cream 40mL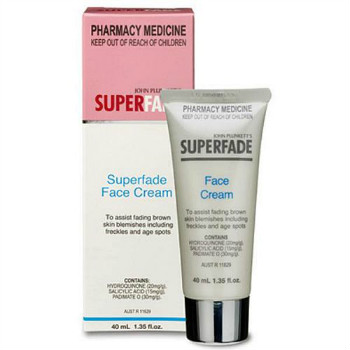 John Plunkett's Superfade Face Cream 40mL
RRP $35.00
$30.00
---
DESCRIPTION
Superfade Face Cream contains a powerful fading agent and other ingredients to assist in fading age spots, freckles and brown skin blemishes. The unique, synergistic combination of Hydroquinone and exfoliants is only found in Superfade. Hydroquinone works within the skin to stop the cause of excessive pigmentation. Superfade Face Cream works gradually by gently exfoliating the hyper-pigmented skin and encouraging new skin growth. Results should begin to appear after 6-8 weeks. FEATURES: * Convenient and precise application to small areas * Helps avoid irritation of surrounding skin * Unique, effective treatment for fading age spots, dark marks and hyperpigmentation * Clinically proven pigmentation correction * S2 Pharmacy only medicine * Contains 2% Hydroquinone (TGA approved) to fade (not bleach) pigmentation * Disables pigmentation cells and inhibits melanin production * Moisturising base with exfoliants to increase skin cell turnover * Has been effective in treatment of pigmentation for the last 25 years it really works! Effectively fades hyperpigmentation including brown skin blemishes, dark marks, age spots and uneven pigmentation within 6-8 weeks. Effectively fades unwanted pigmentation on the face and d colletage for even-toned, younger looking skin!
| | |
| --- | --- |
| Catalogue Code | 3000 |
| Brand | Superfade |
| Manufacturer | John Plunkett |
| Suitable Age | Adult |
| Script Required? | No |
Ingredients
KEY ACTIVE INGREDIENTS:
Hydroquinone (2%):
Disables melanocytes
Inhibits melanin production of tyrosinaase (enzyme)
Prevents melanin production in skin tissue
Salicylic Acid:
BHA, or long term cell exfoliant
Helps to turnover skin cells
Promote new unpigmented cell growth
Padimate:
UVB sunscreen
Helps stop the stimulation of melanin into brown coloured pigmentation
General Information
If a pigmented spot or mole has recently become darker, changed colour becomes itchy or bleeds do not use this product on it and see your doctor immediately.
Do not use on children.
Do not use near eyes.
Dark skinned people should avoid long term and repeated use to lighten overall colour as this could result in hyper pigmentation of the skin.
Mild irritation may occur, stop use if it becomes severe.
If fading is not evident within 3 months, seek doctor's advice.
Avoid exposure to the sun.
This product may darken on exposure to air, but this does not affect its efficacy.
This product contains sulphites.
Available only from Pharmacies (S2).
Use Superfade UV Day Shield SPF30+ on any exposed skin.