Lucas Papaw Ointment 200g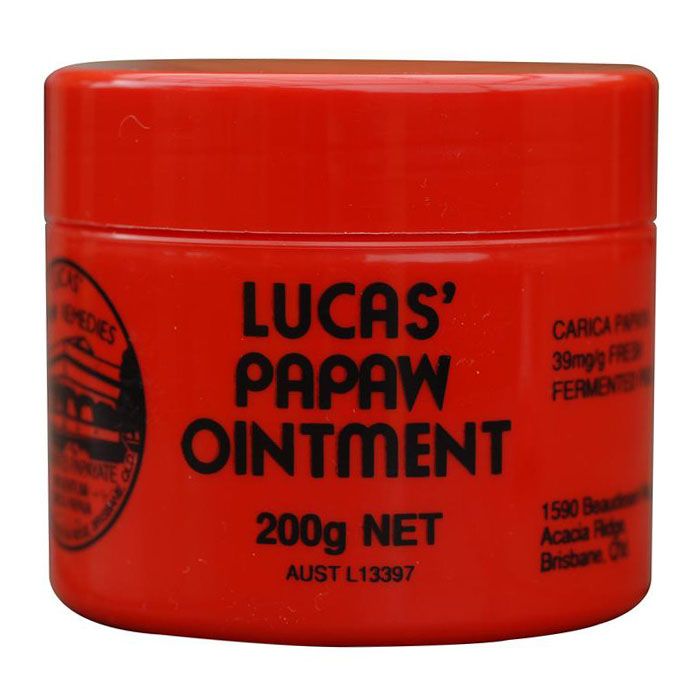 Lucas Papaw Ointment 200g
RRP $28.95
$26.88
Out of Stock
Please enter your email address below to be notified when this product is back in stock
---
DESCRIPTION
T.P.Lucas, after years of research as a botanist with professional experience, stated in his 1906 handbook that he believed that the papaw was the finest antiseptic yet discovered.
Every day, thousands of users of Lucas'' Papaw Ointment enjoy the benefits of its ability to relieve and cleanse.
The ointment has antibacterial and antimicrobial properties and can be used as a local topical application on the following:
* Minor Burns & Scalds
* Sunburn
* Gravel Rash, Cuts & Minor Open Wounds
* Nappy Rash & Chafing
* Insect Bites
* Splinters & Thorns
Many users of the ointment also report temporary relief of the symptoms of dermatitis and eczema. With so many uses and applications, it is always great to have a red jar of Lucas'' Papaw Ointment handy in the home. Or, carry some with you on the go in the convenient 25g red tube.
A quality product requires quality ingredients.
Carica Papaya 39mg/g Fresh Fermented Fruit
The papaya used in Lucas'' Papaw Ointment is Queensland grown fresh fruit.
Pharmaceutical Grade Petroleum Jelly
Our product does not contain polyplasdone, polyvinylpyrrolidone, talc, shellac or sodium lauryl sulphate. The pharmaceutical grade petroleum jelly that is used in Lucas'' Papaw Ointment meets the purity and safety standards of the United States FDA and the European Pharmacopeia.
It is pharmaceutical grade petroleum jelly that is tested and screened for the level of total polycyclic aromatic hydrocarbons. Penreco USP grade Petrolatums are not mutagenic or toxic to reproduction.
| | |
| --- | --- |
| Catalogue Code | 1516 |
| Manufacturer | Lucas |
| Script Required? | No |
General Information
www.lucaspapaw.com.au
Towers Pharmacy recommended