MooGoo Natural Milk Wash 1L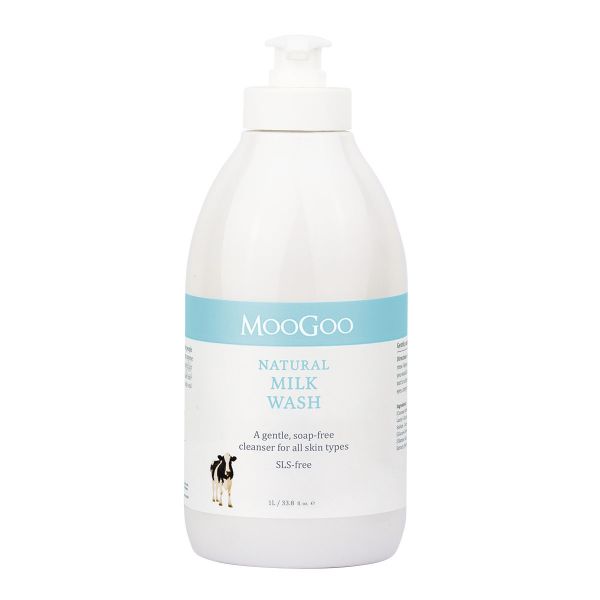 MooGoo Natural Milk Wash 1L
RRP $32.00
---
DESCRIPTION
MooGoo has combined 5 different natural cleaners as this can be gentler on the skin than one concentrated cleanser. MooGoo has chose natural cleansers that wash well without drying out the skin. The foaming action isn't quite as intense as it would if MooGoo has used a synthetic detergent like SLS which is healthier for us and the environment.
MooGoo uses a mix of natural skin conditioning ingredients that are free from any essential oils that can trigger reactions but instead, a blend of Vanilla with the allergy-triggering compounds removed. Because it's so gentle it's also a no-tears formulation in children's eyes. Suitable for all ages, body part and skin types.
A low-irritant, natural cleanser formula for the face and body

Made with a combination of coconut and glucose based cleansers

Free from harsh synthetic detergents (SLS) that can dry out the skin

Has the same irritation score as water, for even the most sensitive skin

We use a phthalate-free fragrant oil for a beautiful smell without the sensitivity

Free from all synthetic preservatives like Phenoxyethanol or Parabens

This product has been

Dermatologically Tested
| | |
| --- | --- |
| Brand | MooGoo |
| Script Required? | No |
Directions
Aqua (H₂O's Fancy Name), Cocamidopropyl Betaine (Coconut-Derived Cleanser), Decyl Glucoside (Glucose-Derived Cleanser), Lauryl Glucoside (Glucose-Derived Cleanser), Coco Glucoside (Glucose-Derived Cleanser), Glyceryl Oleate (Glycerin Based Conditioner), Sodium Cocoyl Sarcosinate (Coconut-Derived Cleanser), Glycol Distearate (Emollient), Glyceryl Stearate (Emollient), Guar Hydroxypropyltrimonium Chloride (Guar Gum), Piroctone Olamine (Olamine Salt), Glyceryl Caprylate (Emollient), Fragrance - Oatmeal (Phthalate-Free).