Nurofen Adhesive Heat Pack 2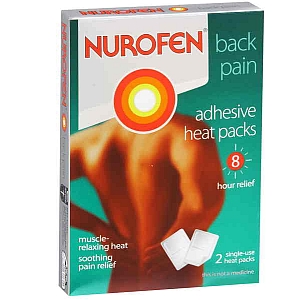 Nurofen Adhesive Heat Pack 2
RRP $11.50
$9.50
---
DESCRIPTION
Effective 8 hours relief of muscular pain an the stiffness of the back, neck and shoulder or other muscular areas. It does not contain ibuprofen.
It contain natural minerals that heat up when exposed to the air to target pain by delivering soothing, muscle-relaxing heat, increasing blood flow and relaxing tight, sore muscles.
| | |
| --- | --- |
| Catalogue Code | 1866 |
| Brand | Nurofen |
| Manufacturer | Boots |
| Script Required? | No |
Warnings
Do not use in sensitive skin or skin conditions like eczema or psoriasis, or in irritated, cracked or damaged skin.Do not use straight after injury. Do not use with medicated creams or gel. Do not use in the same area longer then 8 hours in any 24 hours period. For single use only. Store in cool, dry place. Keep away from children.