Nurofen Suspension 5-12 Years Orange Flavour Concentrated Formula 100mL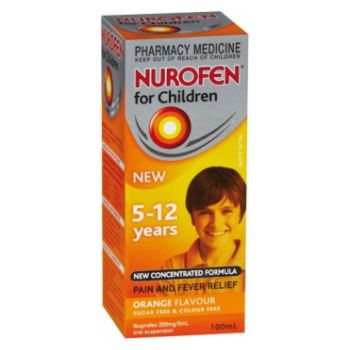 Nurofen Suspension 5-12 Years Orange Flavour Concentrated Formula 100mL
RRP $19.99
---
DESCRIPTION

Nurofen for Children is a pleasant tasting, sugar free, ibuprofen suspension, suitable for children aged between 6 months (under medical advice) to 12 years.
Specially formulated for the relief of fever and pain in children, nothing reduces fever faster or for longer than Nurofen for Children.

Nurofen for Children also has a new dosing system to make it easy for parents to administer pain and fever relief to their children. The innovative new system comes in the form of a measuring syringe that fits neatly into the neck of the bottle.

| | |
| --- | --- |
| Catalogue Code | 5227 |
| Brand | Nurofen |
| Script Required? | No |