Propaira Rosacea Cream + Micellar Cleansing Cream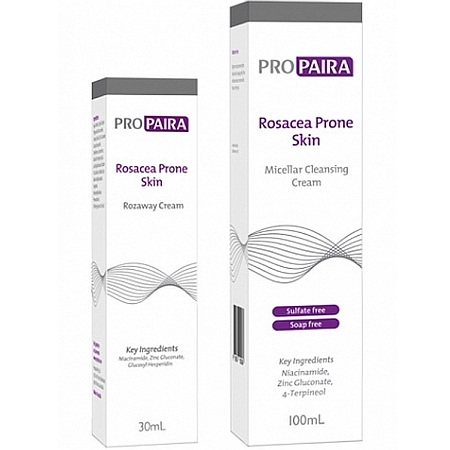 Propaira Rosacea Cream + Micellar Cleansing Cream
RRP $68.95
$65.00
---
DESCRIPTION
Rosacea is a common, chronic skin disorder affecting the central face and presents as like acne bumps or pustules, red or pink patches or broken capillaries.
Propaira Rozaway Cream and Micellar Cleansing Cream have been designed to target:
Facial Redness (Erythema)
Visible Small Blood vesseles (Spider veins)
Flushing and Burning
Bumps and Blemishes
Dryness, Tightness and Itchiness

| | |
| --- | --- |
| Catalogue Code | 6441 |
| Brand | Propaira |
| Script Required? | No |
Directions
Apply morning and evening to the face and neck, massage gently. Rinse with warm water or remove with a tissue or cotton pad.
Apply Propaira Cream after cleansing.
Ingredients
Propaira Micellar Cleansing
Ingredients:
Water, Caprylic/Capric Triglycerides, Cetearyl Alcohol, Niacinamide, Ceteareth-20, 4-Terpineol, Zinc Gluconate, Allantoin, Tocopherol, Xanthan Gum, Dimethicone, Phenoxyethanol, Benzyl Alcohol, Ethylhexylglycerin.

Propaira Rosacea Cream
Ingredients:
Aqua (Water), Caprylic/Capric Triglyceride, Niacinamide, Cetearyl Alcohol, Zinc Gluconate, Glucosyl Hesperidin, Dimethicone, Ceteareth-20, Bisabolol, Pentylene Glycol, 4-t-Butylcyclohexanol, Sodium PCA, Allantoin, Xanthan Gum, Sodium Dehydroacetate, Tocopherol, Hydroxyethylcellulose, Phenoxyethanol, Ethylhexylglycerin, Citric Acid.