Propaira Sunscreen SPF 50+ Lotion 80mL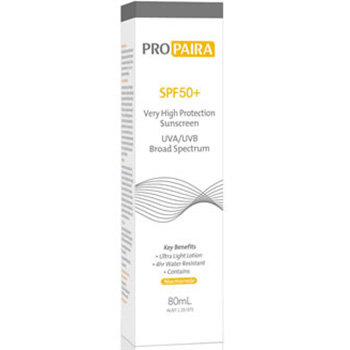 Propaira Sunscreen SPF 50+ Lotion 80mL
RRP $39.95
$34.99
---
DESCRIPTION
Propaira SPF50+ Sunscreen is designed to protect cancer prone skin from harmful UVB and UVA.
The term "SPF (Sun Protection Factor) UVA/UVB Broad Spectrum" used on sunscreen labels represents UVB protection but has less emphasis on UVA protection from a regulatory point of view.
There is currently no standardised way to measure the degree of UVA protection in Australia.
Terrestrial UV radiation consists only of 5% UVB which is mostly absorbed by the epidermis (upper layer of the skin) and 95% UVA which can penetrate below the dermis(lower layer of the skin). UVB is responsible for sunburn and direct damage to DNA. More recently identified is the role of UVA radiation in causing direct and indirect DNA damage by free radicals generation, photoageing, pigmentation, immune suppression and photocarcinogenesis. Both UVB and UVA have a major role in the development of skin cancers.
People at risk of developing skin cancer may need further UVA protection beyond regulatory requirement.
Propaira SPF50+ Sunscreen offers the highest SPF protection. It has very high UVB protection as well as very high UVA protection to further prevent the development of skin cancers.
Propaira SPF50+Sunscreen contains Vit E (anti oxidant) to combat free radicals and Aloe Vera to hydrate the skin.
Furthermore Propaira SPF50+ Sunscreen is an ultra light lotion with 4 hours water resistance.
Free of nano particles, parabens and frangrance.
Suitable for all skin types
Complies with AS/NZS 2604:2012
| | |
| --- | --- |
| Catalogue Code | 6155 |
| Brand | Propaira |
| Script Required? | No |
Ingredients
Ingredients:
Homosalate 100mg/g, Octocrylene 80mg/g, Octyl Salicylate 50mg/g, Butyl Methoxydibenzoylmethane 40mg/g.