Prospan Chesty Cough Relief Expectorant 100mL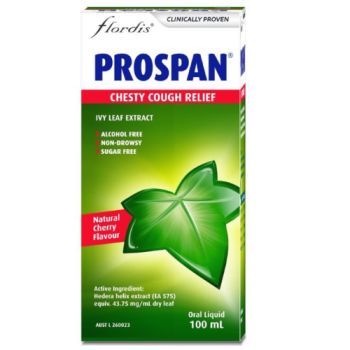 Prospan Chesty Cough Relief Expectorant 100mL
RRP $17.99
$13.88
---
DESCRIPTION
Prospan is a clinically proven cough medicine that is suitable for chesty and bronchial coughs.

Prospan is a clinically proven cough treatment which works by:
relieving mucous congestion
expelling excess mucus
easing the urge to cough
soothing your cough

How does Prospan work?
Prospan''s powerful active ingredient, hedera helix has a special two-fold action to help relieve and ease coughing.
Prospan Expectorant has a non-drowsy, sugar-free, gluten-free and alcohol-free formula and even the fussiest children will like the pleasant taste of Prospan.

With this powerful cough medicine, you only need half the dosage of most other cough medicines. So instead of a standard adult dose (up to 15ml three times a day), you only need 5ml of Prospan Expectorant three times a day. The dosage for children is also much lower, making it even easier for little ones to swallow!
| | |
| --- | --- |
| Catalogue Code | 6044 |
| Brand | BioRevive Prospan |
| Manufacturer | BioRevive |
| Script Required? | No |
Ingredients
You don't have to worry about additional unnecessary ingredients. Prospan Cough Relief is free from sugars, colourings and gluten. It can be used by all the family including very young children. We do recommend you have a chat to your Pharmacist for treating children under 2 year olds.

Active ingredient: Hedera helix equiv. 43.75mg/mL dry leaf

General Information
Made in Germany and distributed worldwide, Prospan has been subject to rigorous clinical testing* in both adults and children.

Many regular cough medicines can now no longer be given to children under 12 years of age, however Prospan is suitable for all ages**.