Reme-D Capsules x 60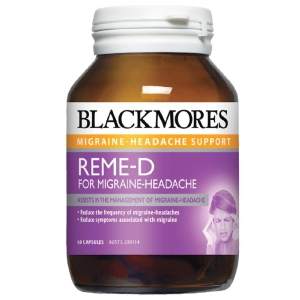 Reme-D Capsules x 60
RRP $29.95
$26.44
---
DESCRIPTION
Reme-D, helping you to reduce nausea and vomiting associated with migraine episodes with regular use.
Features and benefits:
* May help reduce the frequency of migraine-headaches with regular use
* Reduce symptoms associated with migraine with regular use
* Help support a healthy nervous system
Feverfew''s role in the management of migraine
Feverfew has been used for centuries in Western herbal medicine to treat headaches. The World Health Organisation states that feverfew may be effective for reducing the frequency of migraine headaches, however the link between the active components in feverfew and how they assist with migraine management is yet to be fully understood.
Feverfew may take between 4-16 weeks to have an effect, and therefore is not designed for acute symptomatic relief. When taken regularly, feverfew may assist with the management of migraine by reducing the frequency of migraine headache attacks and associated nausea and vomiting.
It is advised that if users wish to stop taking feverfew after a period of more than a few months, that the daily dosage be gradually decreased over the preceding month to avoid rebound headache.
| | |
| --- | --- |
| Catalogue Code | 5756 |
| Brand | Blackmores |
| Script Required? | No |
Directions
Adults- Take 1 tablet per day, increasing to 2 per day as required, or as professionally prescribed.

The beneficial effects of taking Blackmores REME-D for Migraine-Headache occur with regular use for several months.
Ingredients
Active ingredients per capsule:
Tanacetum parthenium (feverfew) extract equiv. to dry leaf
(standardised to contain parthenolide 400 µg) 560 mg
Riboflavin (vitamin B2) 100 mg
Pyridoxine hydrochloride (vitamin B6, pyridoxine 20.57 mg) 25 mg
Folic acid (vitamin B9) 250 µg
Cyanocobalamin (vitamin B12) 400 µg
Magnesium orotate dihydrate (magnesium 3.63 mg) 56.72 mg
*Folic acid may decrease the effectiveness of methotrexate. If you are taking methotrexate, consult your doctor before using this product.