Remifemin Tablets x 200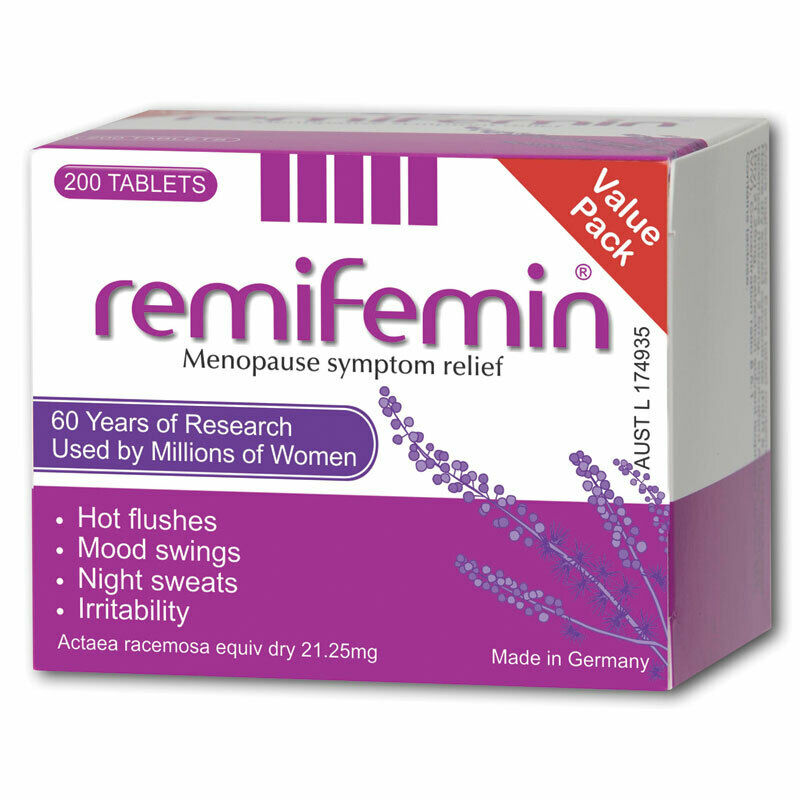 Remifemin Tablets x 200
RRP $42.95
$36.95
---
DESCRIPTION
Genuine & original and made in Germany, Remifemin is a natural herbal product used for the relief from hormonal imbalances and menopausal symptoms.
Remifemin is a plant extract used by millions of women around the world. A product of over 40 years of medical research and international studies. Remifemin has proven to be extremely effective in relieving symptoms experienced during pre/peri-menopause and post menopause. Remifemin is recognized as one of Germanys foremost natural products made specifically for women''s health.
| | |
| --- | --- |
| Catalogue Code | 1506 |
| Brand | Remifemin |
| Manufacturer | Schaper & Brummer |
| Script Required? | No |
Ingredients
Each tablet contains a standardised extract of Cimicifuga racemosa (Black Cohosh) equivalent to 0.018 - 0.026 ml liquid extract of Cimicifuga rootstock
Warnings
Although it is very rare, Black cohosh may harm the liver in some individuals. Use under the supervision of a healthcare professional

There can be many causes of liver damage, including medicines. Some medicines produce damage only rarely in susceptible individuals; the injury is generally unpredictable and may be reversible. Symptoms of liver disease can include jaundice (yellowing of the skin or whites of the eyes), dark urine, nausea, vomiting, diarrhoea, weight loss, unusual tiredness, appetite loss, fever, bloated abdomen or abdominal pain.

Consumers who experience any of these symptoms while taking, or after using, a Black cohosh product should seek medical advice. Consumers who have previously experienced any liver complaints should not take Black cohosh without consulting their doctor first.