Swisse Men's Ultivite Formula 1 Tablets x 60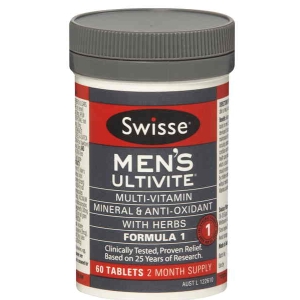 Swisse Men's Ultivite Formula 1 Tablets x 60
RRP $29.95
$25.00
---
DESCRIPTION
Swisse Mens Ultivite Formula 1 contains 52 premium quality vitamins, minerals, antioxidants and herbs to help support mens nutritional needs and maintain general wellbeing. This formula assists with energy production and stamina and helps support a healthy nervous system.
| | |
| --- | --- |
| Catalogue Code | 1288 |
| Brand | Swisse |
| Manufacturer | Swisse |
| Script Required? | No |
Directions
ADULT DOSAGE: One-two tablets daily during or immediately after a meal, or as directed by a healthcare professional.
Ingredients
Ingredients: 500mcg Folic acid , 50IU Vitamin E (d-alpha tocopheryl acid succinate 41.3mg), 200IU Vitamin D3 (cholecalciferol 5 mcg), 30mg Vitamin B1 (thiamine hydrochloride 30 mg), 30mg Vitamin B2 (riboflavin 30 mg), 30mg Nicotinamide , 50mcg Biotin, 200mcg Lutein, 64.13mg Vitamin B5 (pantothentic acid 64.13 mg from calcium pantothenate 70 mg), 24.68mg Vitamin B6 (Pyridoxine hydrochloride 30 mg), 30mcg Vitamin B12 (cyanocobalamin 30 mcg), 165.2mg Vitamin C (ascorbic acid 165.2 mg from calcium ascorbate dihydrate 200 mg), 25mg Choline , 25mg Inositol , 40mg Citrus bioflavonid extract , 1mg Tyrosine , 50mg Lysine (Lysine hydrochloride), 10mg Papaya (Carica papaya fruit powder), 10mg Parsley (Petroselinum crispum herb), 1.5mg Spearmint oil , 21mg Calcium (calcium citrate 100mg), 57.89mg Magnesium (magnesium oxide-heavy 100 mg), 3mg Iron (ferrous fumarate 9.61 mg), 6.2mcg Chromium (chromium picolinate 50 mcg), 1.2mg Manganese (manganese amino acid chelate 12 mg), 28mcg Copper (copper gluconate 200 mcg), 4mg Potassium (potassium sulfate 8.92 mg), 6mg Zinc (zinc amino acid chelate 30 mg), 26mcg Selenium (selenomethionine 65 mcg), 1mg Co-Enzyme Q10 (ubidecarenone), 5mg Betacarotene , 50mcg Iodine (potassium iodide 66 mcg), EACH TABLET CONTAINS EXTRACTS EQUIVALENT TO DRY: 20mg Celery (Apium graveolens seed), 50mg Astragalus (Astragalus membranaceus root), 10mg Buchu (Barosma betulina leaf), 15mg Barberry (Berberis vulgaris root), 50mg Gotu kola (Centella asiatica herb), 100mg Hawthorn (Crataegus monogyna fruit), 30mg Horsetail (Equisetum arvense herb), 15mg Fennel (Foeniculum vulgare fruit), 50mg Sarsaparilla (Smilax officinalis root), 120mg Damiana (Turnera diffusa leaf), 5mg Ginger (Zingiber officinale root) EXTRACTS EQUIVALENT TO FRESH: 50mg Globe artichoke (Cynara scolymus leaf), 500mg Oats (Avena Sativa herb) STANDARDISED EXTRACTS EQUIVALENT TO: 25mg Bilberry (Vaccinium myrtillus fruit fresh), 1g Grape seed (Vitis vinifera seed dry), 50mg St Mary''s thistle (Silybum marianum fruit dry), 50mg Korean ginseng (Panax ginseng root dry), 100mg Ginkgo (Ginkgo biloba leaf dry), 200mg Saw Palmetto (Serenoa repens seed dry), 20mg Green tea (Camellia sinensis leaf dry), 700mg Tomato (Lycopersicon esculentum fruit dry)
Contains lactose, the recommended dose of this medicine contains small amounts of caffeine, and gluten from common oats.
No added egg, yeast, salt, preservatives, artificial colours and flavours.

Warnings: Vitamin supplements should not replace a balanced diet. Not for the treatment of iron deficiency conditions. This product contains selenium which is toxic in high doses. A daily dose of 150 mcg for adults of selenium from dietary supplements should not be exceeded. Do not exceed the stated dose except on medical advice. If you have a baby with neural tube defect/spina bifida, seek specific medical advice. Do not take while on warfarin therapy without medical advice. Use only as directed and consult your health care professional if symptoms persist. If symptoms persist, consult your healthcare practitioner.
Related Products