Telfast 180mg Tablets x 50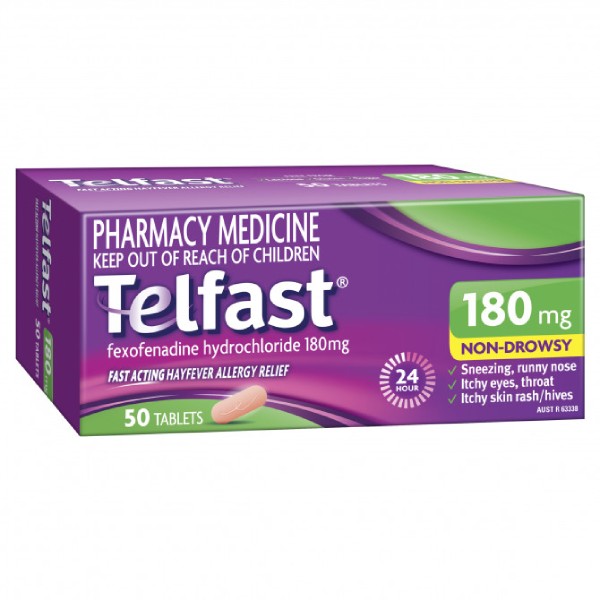 Telfast 180mg Tablets x 50
RRP $42.95
$36.99
---
DESCRIPTION
Telfast 180mg, contains an antihistamine called fexofenadine hydrochloride which helps reduce hayfever symptoms.
Telfast is used to relieve the symptoms of hayfever (seasonal allergic rhinitis) such as sneezing, itchy, watery or red eyes, and itchy, blocked or runny nose. The 180mg strength is also used to relieve symptoms such as swelling related to allergy, swelling related to hives, itchy skin rash or itch caused by hives.
| | |
| --- | --- |
| Catalogue Code | 5436 |
| Brand | Telfast |
| Manufacturer | Sanofi Aventis |
| Script Required? | No |
Directions
Directions: Adults and Children from 12 years 1 Tablet Daily as required.
* If you are pregnant or may become pregnant, check with your doctor or pharmacist before taking this medicine
Do not use in children under 12 years.
Ingredients
Each tablet contains: Fexofenadine hydrochloride 180mg
DOES NOT CONTAIN: Sugar, Gluten, Lactose
Related Products