Tiger Balm White-Regular Strength 18g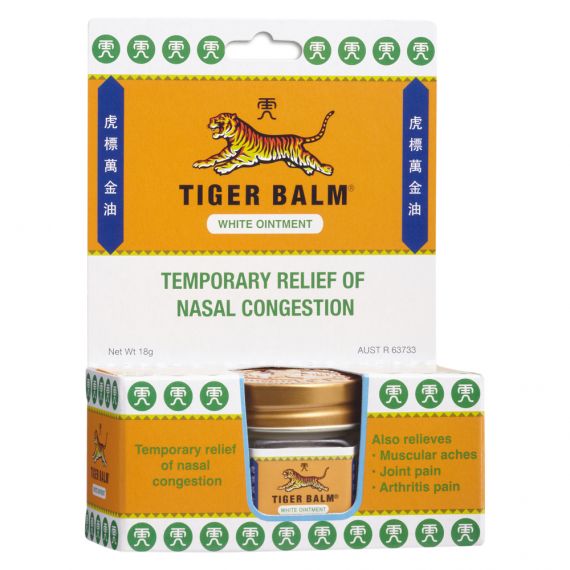 Tiger Balm White-Regular Strength 18g
RRP $9.95
$6.95
---
DESCRIPTION
Tiger Balm is a unique blend of the finest quality essential oils. The natural active ingredients are camphor, menthol, cajuput oil, mint oil and clove oil.
When Tiger Balm is applied to the skin, the rubefacient and analgesic properties provide symptomatic relief from the pain and discomfort associated with the muscular aches and pains of muscles and joints, arthritis, rheumatism and backaches. The natural active ingredients in camphor and the essential oils in Tiger Balm dilate the peripheral blood vessels and bring blood closer to the skin''s surface. This produces increased circulation and warmth. The increase in blood flow speeds up the healing process. This also increases the temperature of the skin and the sensation of warmth serves as a distraction from the pain. The local analgesic effect reduces the sensation of pain.

Tiger Balm White (Regular Strength) can also be used as a chest rub to relieve nasal congestion. Chest rubs usually contain camphor, menthol and eucalyptus oil and have been used since ancient times to relieve symptoms of nasal congestion. It is the vapours which help relieve nasal congestion. Chest rubs are applied topically so they don''t cause drowsiness or interact with other medications like most oral medications that are used for treatment of nasal congestion.
| | |
| --- | --- |
| Catalogue Code | 2712 |
| Brand | Tiger Balm |
| Manufacturer | Key |
| Script Required? | No |