Voltaren Emulgel 20g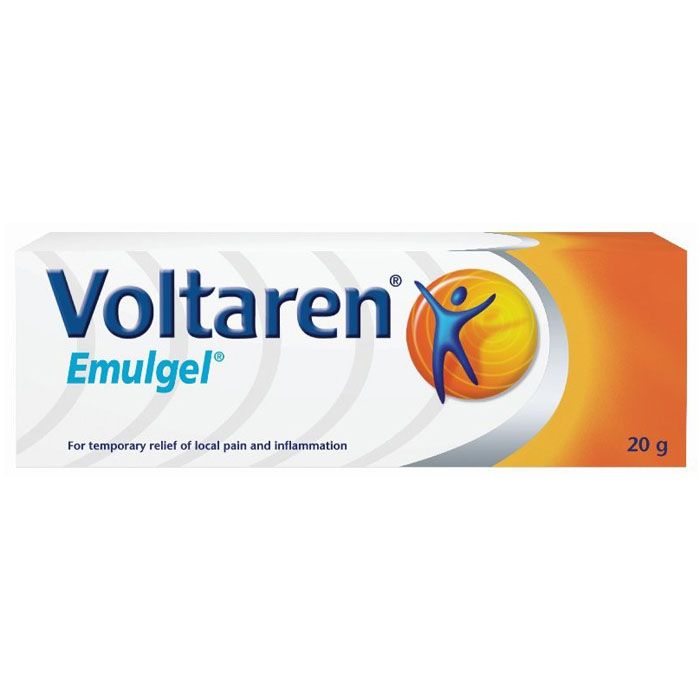 Voltaren Emulgel 20g
RRP $8.99
$6.88
---
DESCRIPTION
Voltaren relieves pain and reduces inflammation (swelling and redness). It is used to treat:


Different types of arthritis including rheumatoid arthritis and osteoarthritis
Other painful conditions where swelling is a problem such as back pain, rheumatism, muscle strains, sprains and tendonitis (e.g. tennis elbow)
Menstrual cramps (period pain)
Voltaren suppositories are used to relieve pain in children after they have had an operation.
Voltaren belongs to a family of medicines called non-steroidal anti-inflammatory drugs (NSAIDs).
| | |
| --- | --- |
| Catalogue Code | 2336 |
| Brand | Voltaren |
| Manufacturer | Novartis |
| Script Required? | No |
Directions
Gently rub a small amount of Voltaren Emuglel into the skin around the swollen or painful area. The amount of gel needed will vary depending upon the size of the painful or swollen area being treated.

For external use only, Apply only to intact skin, not open wounds or any other area where the skin is abnormal. After applying the gel do NOT cover with bandages or sticking plaster.
Ingredients
Diclofenac Diethylammonium Gel 11.6mg/g equivalent to Diclofenac Sodium 10mg/g (1% w/w)
Related Products