Blackmores Bio C 1000mg Tablets 62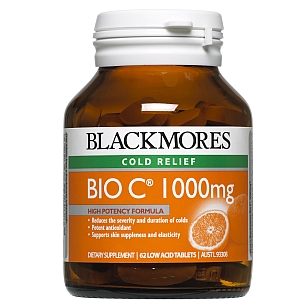 Blackmores Bio C 1000mg Tablets 62
RRP $18.99
$13.88
---
DESCRIPTION
May reduce the symptoms of colds, flu and hay fever. May also assist wound healing. It helps in the metabolism of folic acid and B group vitamins, and may help maintain capillary health.
Contains citrus bioflavonoids extract to help boost its action in the body.
Buffered with mineral ascorbates making it gentle on the stomach.
Contains natural sources of vitamin C, rosehips and acerola.
Reduces the severity and duration of colds.
Helps to support skin suppleness and elasticity via its role in collagen production.
Protects against free radical damage.
Promotes wound healing.
Maintains capillary health.
| | |
| --- | --- |
| Catalogue Code | 85 |
| Brand | blackmores |
| Manufacturer | blackmores |
| Script Required? | No |
Directions
Adults – Take 1 tablet a day with a meal, or as professionally prescribed. At the onset of cold symptoms the dose may be increased to 3 tablets a day.


Children 4-12 years – We recommend Blackmores Bio C® Chewable.

Not to be used by children under 4 years of age without medical advice

Ingredients
Ascorbic acid 400 mg
Sodium ascorbate 350 mg
Calcium ascorbate (equiv. to vitamin C 1000mg) 400 mg
Total vitamin C 1000 mg
Citrus bioflavonoids extract 25 mg
Rutin 50 mg
Hesperidin 50 mg
Rosa canina (Rosehips) extract equiv. to dry fruit 250 mg
Malpighia punicifolia (Acerola) extract equiv. to dry fruit 50 mg

General Information
Vitamin C is involved in hundreds of biological processes. It is important in immunity as it is involved in the function of white blood cells and antibodies. It is beneficial when dealing with the symptoms of the common cold.


Vitamin C is involved in the manufacture of collagen, an important protein in the body. Collagen is a structural protein found in cartilage and tendons, and it helps to support blood vessels. Due to its role in collagen manufacture vitamin C is necessary for wound repair.

Citrus bioflavonoids have been shown to support capillary function by reducing fragility of capillary walls and improving capillary permeability