Blackmores Echinacea ACE + Zinc Tablets 60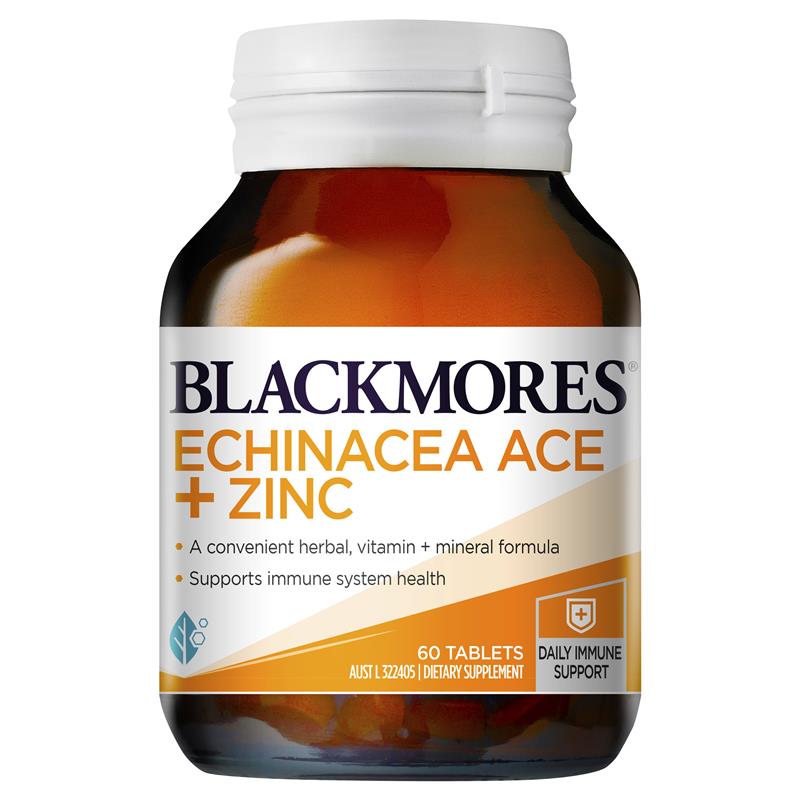 Blackmores Echinacea ACE + Zinc Tablets 60
RRP $19.95
$17.99
---
DESCRIPTION
A daily supplement for regular use that combines echinacea with antioxidant nutrients that may reduce the severity and duration of colds. Echinacea has traditionally been used for the symptomatic relief of mild upper respiratory tract infections such as colds and flu and to support the immune system. Vitamins A and E as well as zinc are also important for the maintenance and normal function of the immune system.

Features and benefits:
* Supports healthy immune function
*Traditionally used to relieve symptoms of mild upper respiratory tract infections such as colds and flu
* May shorten the duration and decrease the severity of cold symptoms
* May help decrease the incidence of colds
* Low dose supplement for long term use
| | |
| --- | --- |
| Catalogue Code | 107 |
| Brand | Blackmores |
| Manufacturer | Blackmores |
| Script Required? | No |
Directions
Adults - Take one tablet three times daily after food, or as professionally prescribed
Children (under 12 years) Only as professionally prescribed
Not to be used by children under 2 years of age without medical advice.

Ingredients
Echinacea purpurea (Echinacea) extract equiv. to dry whole plant 500 mg
Betacarotene 3 mg
Vitamin B5 (Pantothenic acid from calcium pantothenate 28 mg) 25.7 mg
Vitamin B6 (Pyridoxine hydrochloride) 13 mg
Vitamin C (Ascorbic acid) 250 mg
Vitamin E (d-alpha-tocopheryl acid succinate 41.3 mg) 50 IU
Zinc amino acid chelate (Zinc 1.3 mg) 6.5 mg
Warnings
Consult your healthcare professional before use if you have had renal calculi (kidney stones). Ascorbic acid may increase the risk of recurrence of calcium oxalate calculi.
May occasionally cause mild gastrointestinal symptoms.
Always read the label. Use only as directed.
If symptoms persist, see your healthcare professional.