Blackmores Executive B Stress Formula Tablets x 175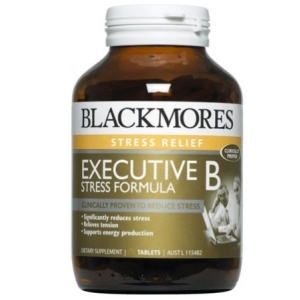 Blackmores Executive B Stress Formula Tablets x 175
RRP $56.88
$42.99
---
DESCRIPTION
Blackmores Executive B Stress Formula contains optimum levels of vitamins, minerals and herbs to provide relief from stress and tension associated with a busy lifestyle.
The active ingredients in this product have been clinically proven to reduce stress and mood changes associated with work-related stress.
Features and benefits:
High potency nutritional supplement Helps maintain optimum levels of vitamins and minerals during times of increased need
Significantly reduces those feelings associated with work stress such as anger and hostility
| | |
| --- | --- |
| Catalogue Code | 216 |
| Brand | Blackmores |
| Manufacturer | Blackmores |
| Script Required? | No |
Directions
Adults - To maintain optimal levels during prolonged stress - Take one tablet in the morning, followed by one tablet with lunch, or as professionally prescribed.
Children (under 12 years) - Not suitable for children under 12 years


Warnings
Contains gluten.
Always read the label. Use only as directed.
If symptoms persist, see your healthcare professional.
Consult your healthcare professional before use if taking, or think you may be taking, a diuretic (fluid tablet).
If taking tetracycline or quinolone antibiotics, biphosphonates (osteoporosis drugs) or thyroid hormones separate doses by at least 2 hours. Magnesium and calcium may decrease absorption and efficacy of these medications.
Related Products