Blackmores Natural Vitamin E 1000IU Capsules x 30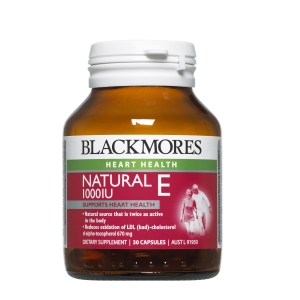 Blackmores Natural Vitamin E 1000IU Capsules x 30
RRP $22.95
$14.99
---
DESCRIPTION
Natural source vitamin E helps reduce oxidation of LDL cholesterol and is a powerful antioxidant and free radical scavenger.
Features and benefits


Natural source Vitamin E has approximately twice the bioavailability of synthetic vitamin E, which means it is more readily absorbed by the body.

Vitamin E is a natural antioxidant.

It also helps reduce oxidation of LDL (bad) cholesterol and maintain a healthy heart.

High potency capsule
How it works
Vitamin E is a fat-soluble antioxidant vitamin, directly involved in preventing free radical activity and lipid peroxidation (damage to polyunsaturated fatty acids in cell membranes). The action of vitamin E on the skin and blood vessels is likely to be due to its antioxidant actions. Free radicals may be generated by essentially normal metabolism and lifestyle factors such as exposure to cigarette smoke, alcohol intake, certain preservatives in food (eg. nitrates), by ozone, chlorine, rancid food and excess dietary fats. Diets high in polyunsaturated fats increase Vitamin E requirements.
| | |
| --- | --- |
| Catalogue Code | 52 |
| Brand | Blackmores |
| Manufacturer | Blackmores |
| Script Required? | No |
Directions
Adults - Take one capsule daily with main meal, or as professionally prescribed
Children (from 6 years to 12 years) - We recommend Blackmores Vitamin E 100 IU capsules


Ingredients
Active ingredient per capsule:
Natural vitamin E 1000IU
( d-alpha-tocopherol 670mg )
No added yeast, gluten milk derivatives, preservatives, artificial colours, flavours or sweeteners.
Warnings
Always read the label. Use only as directed
Consult your healthcare professional before use if taking warfarin. Vitamin E may increase the risk of bleeding with this medication