Blackmores Natural Vitamin E 500IU Capsules x 150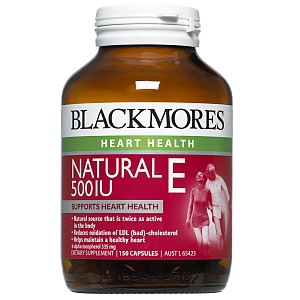 Blackmores Natural Vitamin E 500IU Capsules x 150
RRP $45.00
$34.99
---
DESCRIPTION
Natural source vitamin E helps reduce oxidation of LDL cholesterol and is a powerful antioxidant and free radical scavenger.
Features and benefits:
Natural source Vitamin E has approximately twice the bioavailability of synthetic vitamin E, which means it is more readily absorbed by the body.
Vitamin E is a natural antioxidant. It also helps reduce oxidation of LDL (bad) cholesterol and maintain a healthy heart. High potency capsule.
| | |
| --- | --- |
| Catalogue Code | 55 |
| Brand | Blackmores |
| Manufacturer | Blackmores |
| Script Required? | No |
Directions
Adults - Take one capsule twice daily with meals, or as professionally prescribed
Children (from 6 years to 12 years) - We recommend Blackmores Vitamin E 100 IU capsules
Children (under 6 years) - Only as professionally prescribed

Ingredients
Active ingredient per capsule:
Natural vitamin E 500IU
( d-alpha-tocopherol 335mg )
No added yeast, gluten milk derivatives, preservatives, artificial colours, flavours or sweeteners.