Blackmores Vitamin D3 1000IU Capsules x 60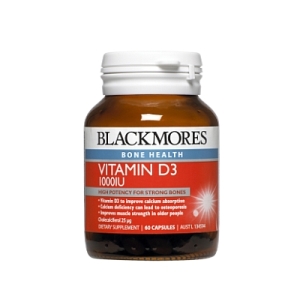 Blackmores Vitamin D3 1000IU Capsules x 60
RRP $14.50
$12.99
---
DESCRIPTION
blackmores Vitamin D3 assists in maintaining healthy bone density by providing minerals to the skeleton. Adequate levels of vitamin D are essential for normal calcium absorption and healthy bones.
Vitamin D also improves muscle strengthin the elderly which my reduce the incidence of falls.
People need regular exposure to sunlight on their skin to make vitamin D but should avoid exposure during peak UV periods. A significant number of Australians do not receive enough vitamin D due to lifestyle and diet.
Ageing decreases the skins ability to produce vitamin D. Blackmores Vitamin D3 contains vitamin D3, the form produced naturally in the body. This form is longer lasting and more effective at raising vitamin D blood levels than D2.
| | |
| --- | --- |
| Catalogue Code | 1442 |
| Brand | Blackmores |
| Manufacturer | Blackmores |
| Script Required? | No |
Related Products