Caruso's Fluid Away High Potency 30 Tablets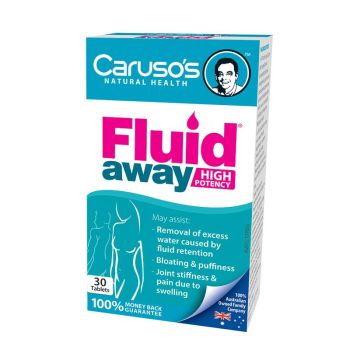 Caruso's Fluid Away High Potency 30 Tablets
RRP $19.95
$17.50
---
DESCRIPTION
Fluid retention can be responsible for swollen limbs and that bloated feeling!
What makes it worse is this swelling and bloated feeling can be uncomfortable.
The high potency Fluid away pill contains therapeutic doses of three powerful herbs;
Celery, Dandelion and Phyllanthus, as well as Vitamin B6.
The first powerful herb in this triple action formula is Celery seed.
It is a well known diuretic and urinary antiseptic and may assist in the treatment of fluid retention.
The second herb is Dandelion.
It has been traditionally used as a diuretic and may assist with fluid retention.
The Ayurvedic herb Phyllanthus may assist with fluid retention because of its diuretic actions.
The fourth ingredient in this comprehensive formula is Vitamin B6.
This vitamin is well known to assist with fluid retention.
Vitamin B6 is also used to alleviate some forms of Pre-Menstrual Syndrome, especially anxiety and fluid retention.
| | |
| --- | --- |
| Catalogue Code | 5281 |
| Brand | Caruso''s |
| Script Required? | No |
Directions
Adults take 1 tablet after breakfast and 1 tablet after dinner or as advised by your Healthcare Professional.

Ingredients
Each tablet contains:
Phyllanthus amarus (Stone Breaker)
Extract equiv. to dry herb...........1500mg (1.5g)
Taraxacum officinale (Dandelion)
Extract equiv. to dry leaf........................750mg
Apium graveolens (Celery seed)
Extract equiv. to dry seed.......................750mg
Pyridoxine Hydrochloride....................30.39mg
Equiv. Pyridoxine (Vitamin B6).................25mg
Warnings
Take at least one hour away from all other pharmaceutical medications.
May decrease the effects of Thyroid medication. Monitor T4 levels.
May increase photosensitivity.
Contraindicated with pharmaceutical diuretics, particularly potassium spearing diuretics.

Related Products