Caruso's Prostate Eze Max Capsules x 60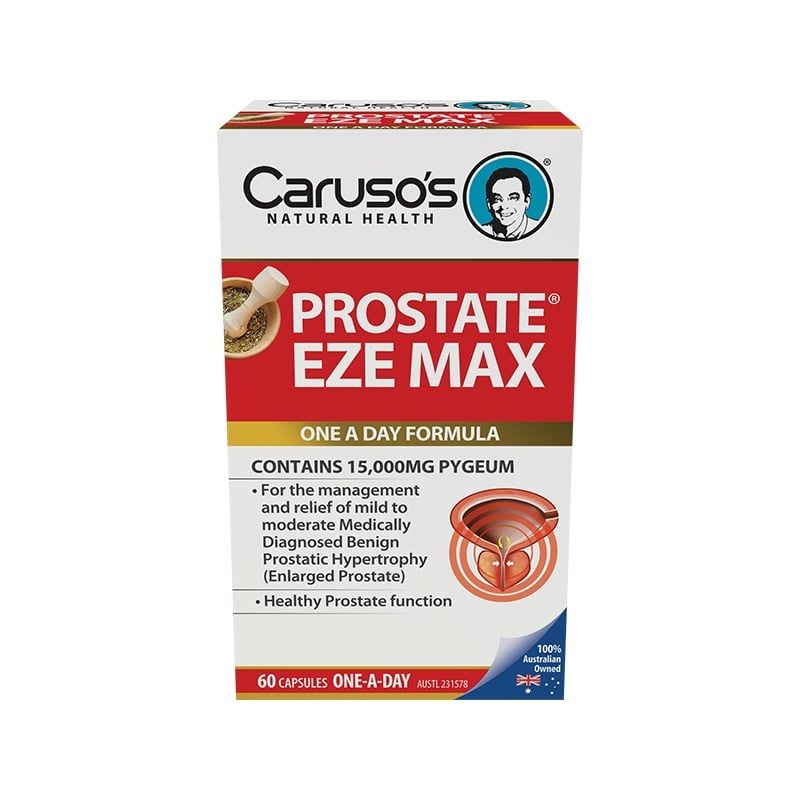 Caruso's Prostate Eze Max Capsules x 60
RRP $75.00
$59.00
---
DESCRIPTION
Prostate Eze Max Capsules have been clinically tested to help men get relief from their Urination problems.
The Australian clinical trial found that Caruso''s ProstateEZE MAX significantly improved the majority of individual symptoms of a medically diagnosed Benign Prostatic Hypertrophy (Enlarged Prostate) in the active treatment group. In particular, there was a significant improvement in the:
Night frequency
Day urinary frequency
Common symptoms of BPH (Enlarged Prostate):
- Getting up frequently at night to go to the toilet
- Trouble getting your urine stream to start
- Needing to ''go'' urgently and not being able to wait
- Trouble stopping the flow of urine
- Pain or burning feeling when urinating
| | |
| --- | --- |
| Catalogue Code | 5825 |
| Brand | Caruso''s |
| Script Required? | No |
Directions
Adults take 1 capsule a day with main meal or as advised by your Healthcare Professional.

Ingredients
Active Ingredients. Each tablet contains:
Prunus africana (Pygeum) Equiv. to dry stem bark 15g
Standardised to B-sitosterol 9.75mg
Sereona repens (Saw palmetto) Equiv. to dry leaf 660mg
Standardised to fatty acids 39.6mg
Epilobium parvilflorum (Willow herb)
Equiv. to dry herb 500mg
Cucurbita pepo seed oil fixed (Pumpkin seed oil) 160mg
Lycopene 2.1mg
Warnings
If you can relate to one or more of these symptoms, you should consult your Healthcare Professional.

General Information
Pictured as 30''s