Ego Pinetarsol Solution Spray Shower Pack 200ml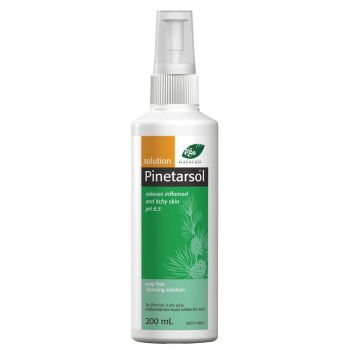 Ego Pinetarsol Solution Spray Shower Pack 200ml
RRP $15.95
$13.50
---
DESCRIPTION
Relief for All Sorts of Red, Itchy Skin Relieves inflamed and itchy skin conditions. Gently cleanses without irritating inflamed skin. It removes the need for soap or other cleansers. Add to a bath for maximum therapeutic effect. It is the most effective way to treat large areas of red, itchy skin.
| | |
| --- | --- |
| Catalogue Code | 616 |
| Brand | Pinetarsol |
| Manufacturer | Ego |
| Suitable Age | all ages |
| Script Required? | No |
Directions
Relief of itching and inflamed skin associated with dermatitis, eczema, chicken pox, napkin rash, sunburn, prickly heat, hives, insect bites, anal and genital itching and other skin irritations.
Itching and inflamed skin associated with fungal infections such as athlete's foot, jock itch, tinea, ringworm, thrush and pityriasis versicolor.
Relieves the symptoms of psoriasis.
General Information
Photo shows pinetarsol range
Related Products