Ego Sunsense Ultra SPF 50+ Pump 500mL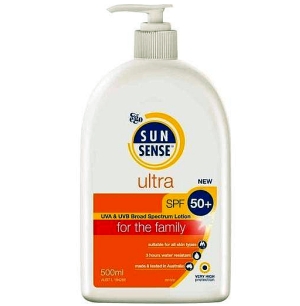 Ego Sunsense Ultra SPF 50+ Pump 500mL
RRP $37.00
$33.50
---
DESCRIPTION
Ego Sunsense Ultra SPF 50+ 500mL
Easily applied and readily absorbed, Ultra Lotion provides even coverage for better protection. Great sunscreen the whole family can use. Suitable for all skin types.
Even coverage for better protection this means it is formulated with a spread resistant technology to help prevent it from being spread too thinly.
UVA & UVB Broad spectrum protection for the whole family.
Fragrance free.
3 hours water resistant
SPF 50+ reduces the sunburning UV light from reaching your skin by approximately 50% when compared to an SPF 50+ if used correctly*.
Contains Nicotinamide - helping to maintain the normal skin barrier function and improving the appearance of skin tone and texture.

| | |
| --- | --- |
| Catalogue Code | 5924 |
| Brand | Sunsense |
| Manufacturer | Ego |
| Script Required? | No |
Directions
Apply sunscreen liberally to clean, dry skin at least 15 minutes prior to sun exposure. Be careful to avoid eyes. Reapply sunscreen every 2 hours and after swimming, exercise and towelling dry. Remember to avoid prolonged sun exposure and wear protective clothing, hats and eyewear to further reduce risk.
Related Products