Elmore Oil 250mL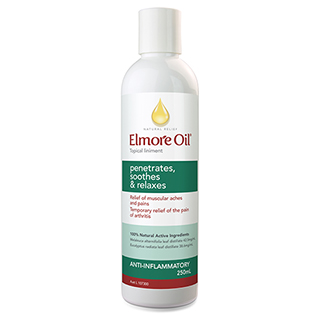 Elmore Oil 250mL
RRP $39.95
$33.99
Out of Stock
Please enter your email address below to be notified when this product is back in stock
---
DESCRIPTION
Elmore Oil is a blend of 4 natural ingredients, combined by a process known as Triple Maturation, to gain maximum potency from the essential oils used in the formula, to bring you maximum pain relief from regular use.They combine together to bring you pain relief from arthritis, joint pain and muscle pain.
Olive Oil the product base, carefully selected extra virgin oil, chosen for its soothing and penetrating effect on the skin.
Eucalyptus Oil distilled from the leaves of the Eucalyptus Polybractea, more commonly referred to as Blue Mallee Eucalyptus. This powerful oil has long been revered for its
ability to penetrate muscle tissue and bring rapid pain relief along with anti inflammatory effects.
Tea Tree Oil - distilled from the leaves of the "Melaleuca Alternifolia: and often used for it''s antibacterial properties, this form of traditionally Australian essential oil also has outstanding penetrating qualities, taking the active ingredients deep into the joint area to initiate pain relief.
Vanilla a special blend of Vanilla extracts, renowned for their circulatory benefits, is the workhorse in ElmoreOil, carrying the active ingredients quickly to the
source of the pain and inflammation.
| | |
| --- | --- |
| Catalogue Code | 2808 |
| Brand | Elmore |
| Script Required? | No |