Ethical Nutrients Extra C Zingles 50 Chewable tabs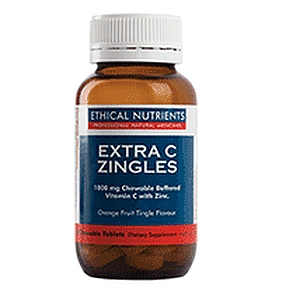 Ethical Nutrients Extra C Zingles 50 Chewable tabs
RRP $18.99
$14.55
---
DESCRIPTION
Extra C Zingles -
50 Chewable Tablets
1000 mg Chewable Buffered Vitamin C with Zinc. Orange Fruit Tingle Flavour.
Therapeutic applications:
Extra C Zingles contains buffered vitamin C to be gentle on the stomach and teeth and may:
Reduce the severity and duration of colds.
Relieve the symptoms of colds and flu.
Assist a healthy immune system.
Relieve allergy symptoms.
Treat and prevent vitamin C nutritional deficiencies.
| | |
| --- | --- |
| Catalogue Code | 6073 |
| Brand | Ethical Nutrients |
| Script Required? | No |
Directions
Adults and children over 12 years: Chew 1 tablet daily with food, or as directed by a healthcare professional.

Children 5 to 12 years: Chew ½ tablet daily with food, or as directed by a healthcare professional.

Not to be used in children under two years of age without medical advice. Vitamin supplements should not replace a balanced diet.

No added artificial flavouring, colouring or preservatives. Free from gluten, wheat, dairy, lactose, eggs and nuts.

Store below 30° C
Ingredients
Each tablet contains:
Ascorbic acid (Vitamin C) 500 mg
Calcium ascorbate dihydrate 303 mg
Equiv. Ascorbic acid (Vitamin C) 250 mg
Sodium ascorbate 281 mg
Equiv. Ascorbic acid (Vitamin C) 250 mg
Total Vitamin C (Ascorbic acid) 1000 mg
Zinc sulfate monohydrate 27 mg
Equiv. elemental Zinc 10 mg