Flixonase Allergy and Hayfever 24 Hour Nasal Spray 120 Doses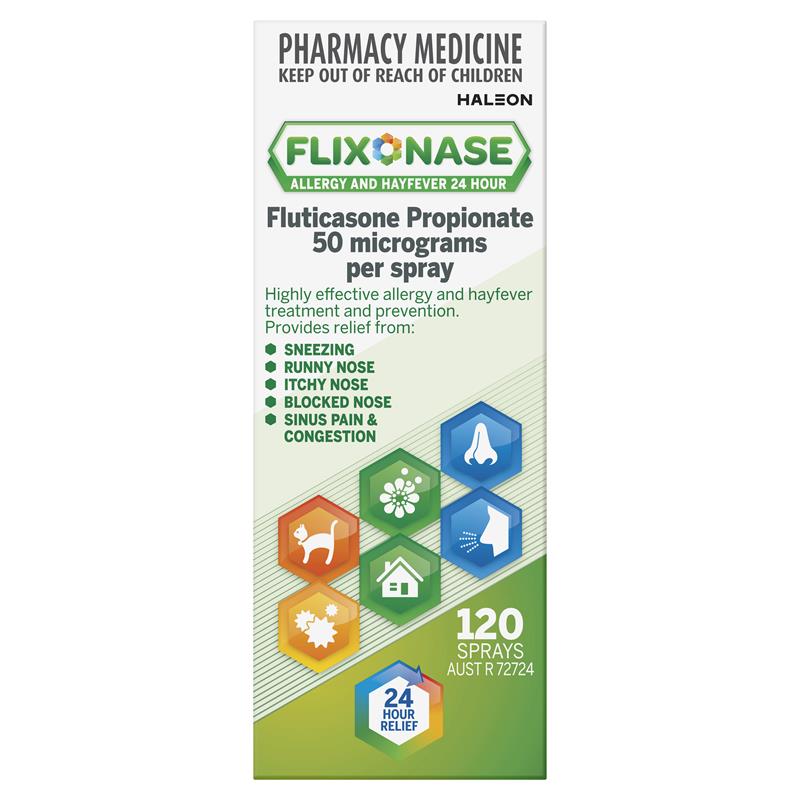 Flixonase Allergy and Hayfever 24 Hour Nasal Spray 120 Doses
RRP $19.99
---
DESCRIPTION
Flixonase Allergy & Hayfever Nasal Spray provides targeted relief from nasal allergy symptoms. Use Flixonase Allergy & Hayfever Nasal Spray once a day to prevent and treat allergic rhinitis including hay fever. You may start to feel allergy relief after the first day and full effect after several days of regular, once-daily use.
Flixonase Allergy & Hayfever Nasal Spray temporarily prevents and relieves the symptoms of hayfever and those caused by other airborne allergens such as house dust mites, mould spores and pet dander including:
- Sneezing
- Runny nose
- Itchy nose
- Blocked nose
- Sinus pain and congestion
It is important that you use the nasal spray regularly for the recommended treatment duration.
| | |
| --- | --- |
| Brand | Flixonase |
| Manufacturer | GSK |
| Suitable Age | 12 years and above |
| Script Required? | No |
Directions
For adults 18 years and over.
- Use only on medical advice in adolescents aged 12-17 years.
- Please read the enclosed leaflet carefully before use.
- Shake gently before use.
- Discard 3 months after first using.
For treatment.
- 2 sprays into each nostril once daily.
For prevention.
2 sprays into each nostril once daily for a few days before expected contact with trigger/allergen. Once symptoms are controlled, protection can be maintained at half a dose; one spray into each nostril, once daily. This dose may need to be increased if symptoms worsen.

Ingredients
Active Ingredients: FLUTICASONE PROPIONATE 50 micrograms per spray.
Contains: Flixonase contains the following preservatives: Phenethyl alcohol 250 mcg/spray and Benzalkonium chloride 20 mcg/spray.
Warnings
Ask a doctor before use if you:
- are pregnant or may become pregnant.
- are breastfeeding.
- suffer from nosebleeds.
- have recently had injury or surgery to your nose.
- intend to use the product for more than 6 months.
Stop use and see your doctor immediately.
- If you have an allergic skin reaction, shortness of breath or wheezing after taking Flixonase.
- If you do not experience symptom relief within 7 days.