Henry Blooms Bio-Fermented Stress and Anxiety with Ashwagandha and Lemon Balm 500mL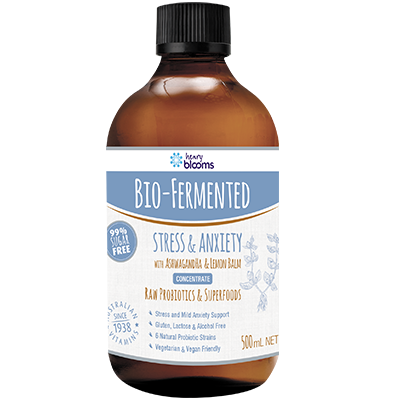 Henry Blooms Bio-Fermented Stress and Anxiety with Ashwagandha and Lemon Balm 500mL
RRP $19.99
$15.99
---
DESCRIPTION
Ashwagandha and Lemon Balm combine in this daily soothing tonic, rich in superfoods and herbal ingredients, known for their calmative properties. With the added benefits of 6 strains of raw probiotics, and being free from gluten, lactose and alcohol and 99% sugar free, there's no need to sweat the bad stuff.
| | |
| --- | --- |
| Brand | Henry Blooms |
| Manufacturer | Phytologic |
| Script Required? | No |
Directions
Mix 15 ml (approx. 1 tbsp) with up to 200 ml of chilled or sparkling water. Can also be added to your favourite juice or smoothie.
Ingredients
Bio-Fermented probiotic concentrate MultiplyPlus® [Papaya, Lemon Balm, Withania Root (Ashwagandha), Apple Cider Vinegar, Pomegranate], natural sweetener (glycerol), flavour (Wildberry), natural sweetener (thaumatin).
Six strains used in the fermentation process include Lactobacillus acidophilus, Lactobacillus casei, Lactobacillus plantarum, Bifidobacterium lactis, Lactobacillus bulgaricus and Saccharomyces boulardii.
Free from gluten, lactose and alcohol. Vegan and vegetarian friendly
Warnings
Do not use if cap seal is broken or missing. Not suitable for children under 3. If pregnant or breastfeeding consult your healthcare professional. Refrigeration once opened is optional.