Henry Blooms VitaQIK™ Liposomal D3 & K2 50mL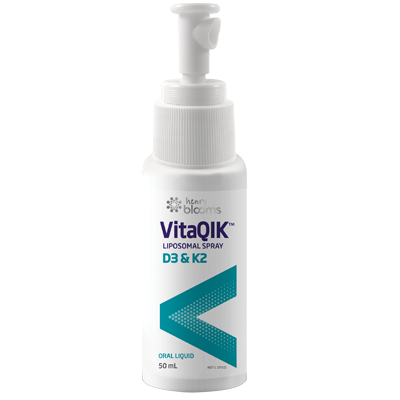 Henry Blooms VitaQIK™ Liposomal D3 & K2 50mL
RRP $19.95
$11.99
---
DESCRIPTION
VitaQIK™ Liposomal D3 & K2 works to support healthy immune function, maintain bone health and prevent Vitamin D and K deficiencies. Liposomal delivery allows for enhanced absorption and faster uptake.
| | |
| --- | --- |
| Brand | Henry Blooms |
| Manufacturer | Phytologic |
| Script Required? | No |
Directions
Adults: Shake well before use. Spray 2 mL (4 sprays) under the tongue once daily, or as directed by your health professional. Hold liquid under the tongue for 5 seconds before swallowing.
Ingredients
Each 2 mL dose contains:
Colecalciferol 25 micrograms
(Vit. D3 1000 IU)
Menaquinone 7 10 micrograms
(Vit. K2)
Free from sugar, lactose, gluten, wheat, milk derivatives, animal products and artificial colours and flavours.
Vegan and vegetarian friendly.
Contains ethanol, potassium sorbate, sodium benzoate and soya bean products.
Warnings
Always read the label. Follow the directions for use. If symptoms persist, change, or worsen talk to your health professional. Contains sodium benzoate, potassium sorbate and soy products.