Hope's Relief Moisturising Lotion 145gm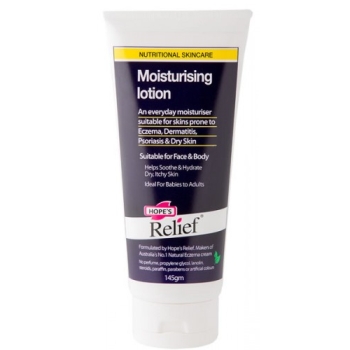 Hope's Relief Moisturising Lotion 145gm
RRP $24.95
$21.95
---
DESCRIPTION
Hope''s Relief Moisturing Lotion is enriched with the amazing benefits of Mango, Shea and Olive Butters.
This unique lotion repairs and nourishes the dry outer skin plus also penetrates deep to restore flexibility and regenerate new skin cells.
Hope''s Relief Hydrating Lotion is formulated to be used on sensitive skins to hydrate and restore skin health.
The lotion is also perfect for people with eczema, psoriasis or dermatitis that want an all over hydrating lotion that is non irritating.
PROVEN 100% NATURAL INGREDIENTS
MANGO BUTTER
relied on in the rainforests and tropics for its skin softening, soothing, moisturising, and protective properties. Restores flexibility and prevents drying of the skin and formation of wrinkles. Mango butter also reduces degeneration of skin cells and restores elasticity.
SHEA BUTTER
a natural form of Vitamins A and E known for exerting powerful antioxidant,, anti-aging and anti-inflamatory actions. It produces the same moisturising effect on dry skin as would be exerted by the sebceous glands of healthy skin.
OLIVE BUTTER
reduces skin irritations and leaves dry skin feeling soft, smooth and firm. Also very rich in antioxidants and vitamins.
GOTU KOLA
activates collagen formation and stimulates scar healing. Assistes in moisturising and acts as an anti-inflammatory.
CALENDULA
anti-inflammatory, antiseptic, antioxidant, antifungal and wound healing.
GRAPESEED
more antioxidant potency than Vitamins E and C, grape seed extract is an anti-aging, anti-wrinkle, and helps cell repair by binding with collagen and elastin.
For maximum results for relief from the symptoms of eczema, psoriasis and dermatitis we recommend using with the Hope''s Relief Premium Eczema Cream. A therapuetic cream specifically formulated for the relief of eczema symptoms with 300mg''s of active ingredients.
| | |
| --- | --- |
| Catalogue Code | 5842 |
| Brand | Hopes Relief |
| Script Required? | No |
Related Products