Itch-Eze Plus Cream 50g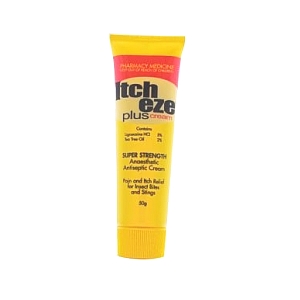 Itch-Eze Plus Cream 50g
RRP $18.95
$16.95
Out of Stock
Please enter your email address below to be notified when this product is back in stock
---
DESCRIPTION
Itch-Eze Plus is the only product on the market that combines two active ingredients to stop the intense itching caused by insect bites, making it both very effective and unique.
It contains 5% Lignocaine and 2% Tea Tree Oil
Lignocaine is a powerful local anaesthetic that quickly numbs the area to which it is applied, giving almost instant short-term relief from itching. Compared to nearest comparable product, Itch-Eze Plus contains 66% more Lignocaine. Tea Tree Oil works 2 ways - it stops itching by breaking down the foreign protein in the bite - helping to stop the localised allergic reaction, and it acts as an antiseptic, preventing infection.
| | |
| --- | --- |
| Catalogue Code | 1921 |
| Brand | Itch-Eze Plus |
| Manufacturer | Tropical Strength Remedies |
| Script Required? | No |
Ingredients
Lignocaine HCI 5% w/w
Melaleuca Oil ( Tea Tree Oil) 2% w/w